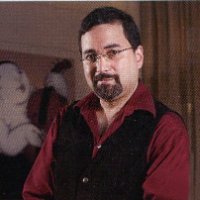 Alex Jimenez is a consultant, designer and producer for Capcom USA employed from 1991 to 1996. He is notable for creating the concept of the Darkstalkers series and helped supervise the production of games based on American series such as Cadillacs and Dinosaurs, The Punisher, Dungeons & Dragons: Tower of Doom (and its sequel), Alien vs. Predator, and X-Men: Children of the Atom. Colleagues include David Winstead, Phillip Reed and Eric Luther.
Other companies he worked for following Capcom include 3DO and Dynamix. He is currently the Director of Design at Seed Studio.
Production History
Edit
Ad blocker interference detected!
Wikia is a free-to-use site that makes money from advertising. We have a modified experience for viewers using ad blockers

Wikia is not accessible if you've made further modifications. Remove the custom ad blocker rule(s) and the page will load as expected.