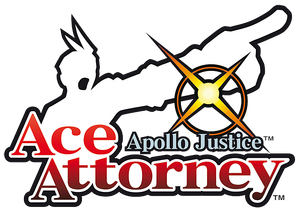 Apollo Justice: Ace Attorney
(
Gyakuten Saiban 4
in Japan) is the fourth game in the
Ace Attorney
series.
It is the first game in the series to be specifically built from the ground up for the Nintendo DS, since the previous titles were remakes of Game Boy Advance games. It was released in Japan in April 2007, and North America and Europe in 2008. A iOS port was released in December 2016. A possible remake or port for the Nintendo 3DS is possibly in works.[1] Character and promotional art was drawn by Tatsurou Iwamoto.
The game, which takes place seven years after the third game, features a new protagonist called Apollo Justice who takes over after Phoenix Wright (who appear as a major supporting character) and features a new gameplay gimmick; the bracelet, which has the ability to "zoom in on witnesses to gather information regarding them". This is denoted as the perceive function in the game, the bracelet is used in court to spot actions made by the witness that show nervousness. Apollo Justice shouts "Gotcha!" once the player spots such an action.
Characters
Edit
Kristoph Gavin
The judge
Winston Payne
Episode 1: Turnabout Trump - Apollo's first case involves him defending Phoenix Wright in the murder of Shadi Smith.
Episode 2: Turnabout Corner - Apollo defends a member of the Kitaki family, a family of feared gangsters in the city.
Episode 3: Turnabout Serenade - Apollo has to defend a teenage pianist in the murder of a singer's manager.
Episode 4: Turnabout Succession - This episode introduces the Jurist System, in which the verdict is decided by the consensus of six average citizens.
Box Art and Merchandise
Edit
References
Edit
External Links
Edit
Ad blocker interference detected!
Wikia is a free-to-use site that makes money from advertising. We have a modified experience for viewers using ad blockers

Wikia is not accessible if you've made further modifications. Remove the custom ad blocker rule(s) and the page will load as expected.