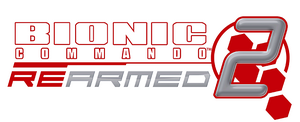 Bionic Commando Rearmed 2 is an action platformer game and a main installment in the Bionic Commando series. The game was released on Xbox LIVE and PlayStation Store in February 2011.
In the sequel to 2008's retro-flavored sidescroller, Spencer will have to face his greatest challenge yet as General Sabio, a new technologically sophisticated foe, is on the brink of launching a deadly missile attack. In addition to his trademark bionic grappling hook used to traverse lush new environments, Nathan Spencer has upgraded his abilities to include the much requested jump move.
Key Art and Soundtrack
Edit
External Links
Edit
Ad blocker interference detected!
Wikia is a free-to-use site that makes money from advertising. We have a modified experience for viewers using ad blockers

Wikia is not accessible if you've made further modifications. Remove the custom ad blocker rule(s) and the page will load as expected.