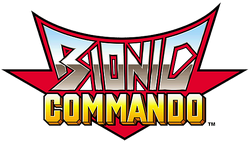 The Bionic Commando series of action platform games consists (as of 2011) of five games spanning three decades, beginning with an arcade game produced and released by Capcom in 1987. It was later released for several home computers (ported by Software Creations and published by Go!).
More widely regarded is the sequel released for the Nintendo Entertainment System. Further sequels have also appeared on the Game Boy and Game Boy Color, these two games being more closely related to the NES game than the arcade original.
On October 19, 2007, Capcom announced a new Bionic Commando game for the Playstation 3, PC and Xbox 360. The new game was made by Swedish developer GRIN, and featured gameplay inspired by the NES installment. On January 16, 2008, Capcom announced a remake of the NES installment titled Bionic Commando Rearmed for the Playstation Network and Xbox Live Arcade. It was released in Spring of 2008.
Though the protagonist varies depending on the game, the most famous is Nathan "Rad" Spencer, from the NES, Game Boy, and seventh generation console installments. All protagonists in the series are soldiers equipped with a bionic arm featuring a grappling gun, allowing the protagonist to pull himself forward or swing from the ceiling. The series is notable for being one of few instances of a platform game in which the player cannot jump. To cross gaps or climb ledges, the hero must use his bionic arm.
Super Joe is another protagonist from the series with a loyal fanbase.
Games in the Series
Edit
Related Series & Games
Edit
External Links
Edit
Ad blocker interference detected!
Wikia is a free-to-use site that makes money from advertising. We have a modified experience for viewers using ad blockers

Wikia is not accessible if you've made further modifications. Remove the custom ad blocker rule(s) and the page will load as expected.