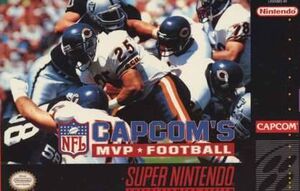 Capcom's MVP Football is an North American, sports football video game published and developed by Capcom, only available for the SNES.
There are 4 different modes for gameplay:
Custom mode allows exhibition style games to be played and for all the components of the game to be customized. Players can either control the action on field, or just simply call all of the plays by also acting as the coach. 
Tournament mode permits players to take his team through the playoff bracket and into the Super Bowl.
MVP mode requires players to change history as he changes the outcome of the historical NFL games.
Demo mode allows the player to watch the AI's play against themselves. 
Ad blocker interference detected!
Wikia is a free-to-use site that makes money from advertising. We have a modified experience for viewers using ad blockers

Wikia is not accessible if you've made further modifications. Remove the custom ad blocker rule(s) and the page will load as expected.