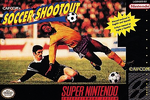 Capcom's Soccer Shootout (J. League Excite Stage '94 in Japan) is a soccer video game originally released in 1994 for the Super Famicom.
The Japanese version featured all clubs from the top division of Japan Professional Football League J. League Division 1 (1994 J. League season), while the North American and European versions featured national teams.
Two Super Famicom sequels with new improvements and options were spawned, the most significant being the inclusion of Beach Soccer.
External Link
Edit
Ad blocker interference detected!
Wikia is a free-to-use site that makes money from advertising. We have a modified experience for viewers using ad blockers

Wikia is not accessible if you've made further modifications. Remove the custom ad blocker rule(s) and the page will load as expected.