Dungeons & Dragons: Shadow over Mystara
is a 2D arcade fantasy action game developed by
Capcom
. It is the second of Capcom's two arcade games based on the popular
Dungeons & Dragons
franchise. Both this and the first game (
Dungeons & Dragons: Tower of Doom
) were later released as the
Dungeons & Dragons Collection
for the Sega Saturn, PlayStation 3, Xbox 360, Wii U and PC. The game is set in the
Dungeons & Dragons
campaign setting of Mystara. It was one of the last 2-D arcade side-scrollers created by Capcom; only
Battle Circuit
came after
Shadow over Mystara
.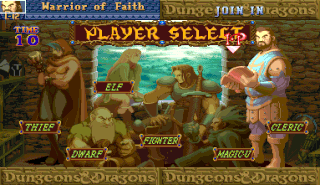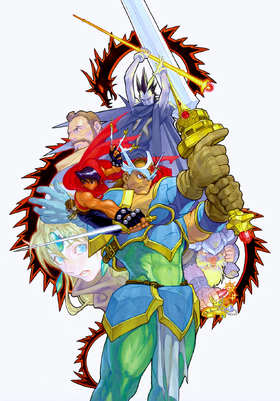 Combining the side-scrolling gameplay of a beat 'em up with some aspects found in an RPG, Shadow over Mystara has many game mechanics not commonly found in arcade games. While things as simple as item collection, finding and equipping new gear and earning new spells as the player gains experience is an old idea in console games, it is a rare find at the arcades.
Players can wield a large variety of weapons and armor, although this selection is limited by the character the players chooses. There is also an extensive assortment of magical and hidden items in the game, many of which are completely unknown to exist to the typical arcade gamer. This, along with the addition of multiple endings and forking paths, gives the game an extreme amount of re-playability and has led to a cult following among fans of the genre.
Planner: Kenkun Kataoka, Malachie
Character Design: Kinu.Nishimura
Object: "s" Is a Criminal, H.Minobe, Shinya.M, Dway Nishimura, Kanako.Takami, Miwa Shigenaga, Toshihiro Suzuki, Kako, Masayo.Tsujimoto, T.Shirahama, Ino, R.Sato, Sa Ga Ta, M.Kondo, Shinz.Sakashita, S.Yamashita, Y.Yamamoto, Dja, Jon, Inukichi Iwasaki, Jun Mathumura 28
Scroll: Nissui, Saru, Shake, Hisoya, S.Kuwatch, J.Son, Ojiji, Takky, Iwai, Meiko.K
Music Compose: Masato Koda
Sound Design: Moe.T
Sound Effect: Moe.T, Hachi Bee, Satoshi Ise
Sound Produce: Arcade Sound Team
Thanks to: Lee, Mta (groovy) Nshi
Programmer: O G T, Kazuo.Yamawaki, Motsu, Tora & Yume & Hide, Ryota Forever, K A T S U O, Knishi-MadDogMc
Special Thanks: Shinichi Yasuki, Mr. Shiraiwa
Original Script: Alex Jimenez
Special Thanks (continued): Capcom All Staff, and You
Presented by: Capcom
Characters
Edit
Advertisements and Merchandise
Edit
External Link
Edit
Ad blocker interference detected!
Wikia is a free-to-use site that makes money from advertising. We have a modified experience for viewers using ad blockers

Wikia is not accessible if you've made further modifications. Remove the custom ad blocker rule(s) and the page will load as expected.