Ad blocker interference detected!
Wikia is a free-to-use site that makes money from advertising. We have a modified experience for viewers using ad blockers

Wikia is not accessible if you've made further modifications. Remove the custom ad blocker rule(s) and the page will load as expected.
Dungeons & Dragons: Tower of Doom is the first of two arcade games developed by Capcom, based on the popular Dungeons & Dragons franchise. The game was followed by a sequel, Dungeons & Dragons: Shadow over Mystara. Both games were later released as the Dungeons & Dragons Collection for the Sega Saturn and Dungeons & Dragons: Chronicles of Mystara for PS3, Xbox 360, PC and Wii U.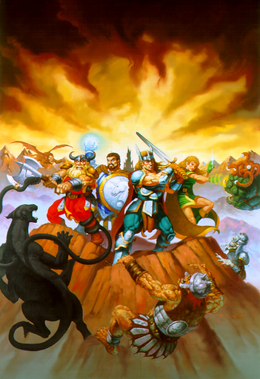 Dungeon Master: Sadamoto.T 11255, Magigi Fukunishi, George Kamitani, Alex Jimenez
Character Designer: Hitoshi "T" Nishio, Sinz.Sakashita, Jun Matsumura 25, Youjirou, Yukari Ogawa, Minobeyan, Popozu.Boo, Seigo Kawakami, Masako Sato, Tiyuki Sawada, Takemoto
Artist: Fukumoyan, Ziggy, Masako Miyao, Hisashi Kisanuki, Junsuke, Angus, Hiropon
Programmer: Kazuo Yamawaki, Belphegor Ogachy, Tsutomu Uragou, Teruaki Hirokado, Toshiyuki Furuko
Music Composer: Abe "oyaji" Isao, Anarchy "Takapon", OK Production
Sound Designer: Toshio Kajino, T.K,NY
Special Thanks: Kazumasa Yamanouchi, Ikusan Z, Yorio, Rikagon, Prof. Hayashi, Takuya Shiraiwa, and Capcom All Staff
External Link
Edit