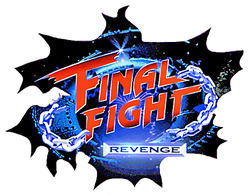 Final Fight Revenge is an arcade game and the fifth release in the Final Fight series. Its tagline is "Violent Storm Rising". A Sega Saturn port was released only in Japan on March 30, 2000, where it was the second-to-last game officially released for the platform. The game was developed by the same American team that later produced Maximo: Ghosts to Glory and Final Fight: Streetwise.
Final Fight Revenge, despite its high collectibility factor (and hefty price tag), remains the least favorite entry in the series. Complaints ranged from "blocky" graphics, and players feeling like they were fighting each other in zero gravity.
Characters
Edit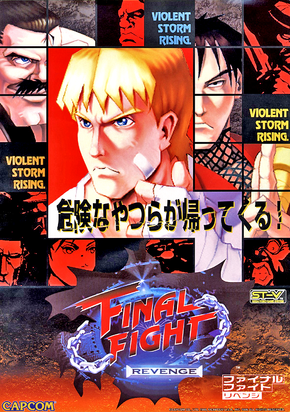 The plot of Final Fight Revenge takes place between the original Final Fight and Street Fighter Alpha 3. The Mad Gear Gang, wishing to reestablish themselves as a force of menace in Metro City, is looking to rebuild itself.
Gameplay
Edit
Artists
3D Characters: Eiko Mori, Jonathan Casco, Ken Toney, Primo Navidad, Roman Pangilinan

Backgrounds: Cindy Walker

2D Art/Graphics: Raymond Fung

Art Leads: Eiko Mori, Jonathan Casco

Art Director: Raymond Fung

Programmers: Yoshi Hatano, David Dixon, Paul Taylor, Richard Maurer, John Shen

Lead Programmer: Yoshi Hatano

Game Designers: Tetsuya Iijima
Music & Sound Effects: Jim Wallace
Producers: Tetsuya Iijima, Jim Wallace, Mark Rogers
Directors: Yoshiki Okamoto, David Siller
Voice Actors: Jim Wallace, Lani Minella, Jon St. John, Bill Corkery, Rick Calvert
Testers: Russell Young, Gene Sprague
Special Thanks: Akiman, Victor Huang, Lance Luu, Lisa Jones, Mikiko Matsumoto, John Kim, Dante Fuget, Adrian Ludley, Ken McAll, Noah Miller, Marshall Rogers, Monte Singman, Gerardo Sprigg
This is the first Final Fight title to abandon the series' previous 2-D scrolling style, and instead featured polygonal models for the playable characters. However, the poor design of the polygonal models was one of the reasons that the game was generally not well received by fans.
External Links
Edit
Ad blocker interference detected!
Wikia is a free-to-use site that makes money from advertising. We have a modified experience for viewers using ad blockers

Wikia is not accessible if you've made further modifications. Remove the custom ad blocker rule(s) and the page will load as expected.