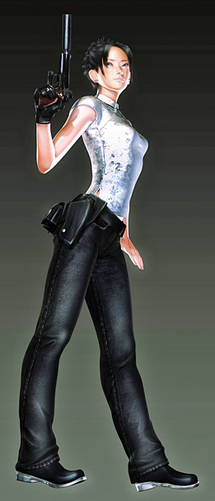 Fong Ling is a character from the Resident Evil series of horror games. She is one of the main characters in Resident Evil Dead Aim.
Fong Ling is a Chinese agent for the Ministry of State Security. She built a reputation within the intelligence community when she was ordered to hunt down and arrest her brother, a pro-democracy activist. Her brother was later executed by her superiors.
Ling is ordered to infiltrate the hijacked vessel the Spencer Rain in the Atlantic Ocean in order to eliminate Morpheus D. Duvall and obtain the T/G-Virus. Initially apathetic towards the presence of a rival operative, Ling must ultimately utilise Bruce McGivern's combat prowess in order to survive their precarious situation.
Other appearances
Edit
Ling also appeared, along with Bruce, in the crossover tactical RPG game Namco x Capcom. She is partnered with Chinese zombie Hsien-Ko from fellow Capcom series Darkstalkers.
Ad blocker interference detected!
Wikia is a free-to-use site that makes money from advertising. We have a modified experience for viewers using ad blockers

Wikia is not accessible if you've made further modifications. Remove the custom ad blocker rule(s) and the page will load as expected.