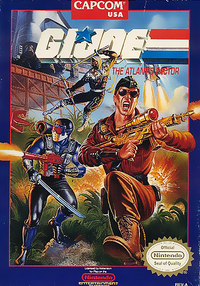 G.I. Joe: The Atlantis Factor is a licensed 1992 action video game developed by KID and published by Capcom in the United States for the NES. Based on the G.I. Joe action figures franchise produced by the toy company Hasbro, the game is a sequel to the G.I. Joe video game developed by Taxan and released for the NES in 1991.
The game's format is similar to that of Capcom's Bionic Commando series with an overhead map of the various sub-stages, and bosses (Overkill, Cesspool, Firefly, Major Bludd, Destro) located at Cobra bases sprinkled throughout the game.
Characters
Edit
All six characters are playable.
Cobra Commander somehow survived the last time he fought the G.I. Joe team, but this time he is plotting to use the long lost powers of the Atlanteans in his bid to rule the world.
External Links
Edit
Ad blocker interference detected!
Wikia is a free-to-use site that makes money from advertising. We have a modified experience for viewers using ad blockers

Wikia is not accessible if you've made further modifications. Remove the custom ad blocker rule(s) and the page will load as expected.