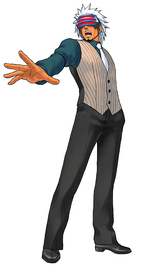 Diego Armando, better known as Godot, is a character from the Ace Attorney series of click-and-point text-based adventure games.
He is Phoenix Wright's main antagonist in Trials and Tribulations. His eyesight was severely damaged from a near-fatal poisoning in the past, causing him to wear a special visor.
Ad blocker interference detected!
Wikia is a free-to-use site that makes money from advertising. We have a modified experience for viewers using ad blockers

Wikia is not accessible if you've made further modifications. Remove the custom ad blocker rule(s) and the page will load as expected.