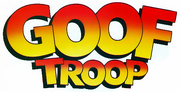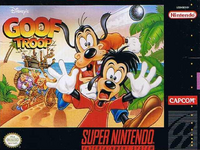 Goof Troop, known as Goofy to Max: Kaizoku Shima no Daibouken (グーフィーとマックス 海賊島の大冒険, "Goofy and Max: Great Adventure of Pirate Island") in Japan, is an action-adventure video game, developed and released by Capcom in 1993 for the Super NES and based on the Disney TV series of the same name. It can be played in multiplayer mode, wherein one player controls Goofy and the other Max. Shinji Mikami designed the game.
Game Design: Shinji Mikami, Satoshi Murata
Main Program: Masatsugu Shinohara
Program: Shinya Ikuta, Toshihiro Fujikawa
Object Design: Tsuyoshi Wakuta, Yuji Wada, Toru Nakayama
Scroll Design: Naoe Yoshida, Tomohiko Inagaki, Tsuyoshi Okahisa
Sound Effect: Tatsuya Nishimura, Elf
B.G.M.: Yuki Satomura
Special Thanks: Takuya Shiraiwa
Produce: Patrick Gilmore
External Link
Edit
Ad blocker interference detected!
Wikia is a free-to-use site that makes money from advertising. We have a modified experience for viewers using ad blockers

Wikia is not accessible if you've made further modifications. Remove the custom ad blocker rule(s) and the page will load as expected.