JoJo's Bizarre Adventure
(ジョジョの奇妙な冒険, Jojo no Kimyō na Bōken) is a 1999 fighting game developed by
Capcom
based on
Hirohiko Araki
's famous
manga series of the same name
.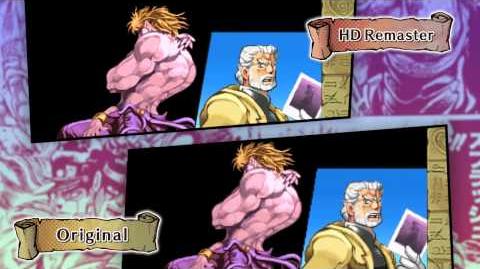 It was originally released in the arcade in 1998 on the CPS-3 arcade system; this version was known outside of Japan as JoJo's Venture. An updated version of the game was released in 1999 as JoJo's Bizarre Adventure: Heritage for the Future, becoming the sixth and last game released for the CPS-3 board (the second-to-last being the third revision of Street Fighter III: Street Fighter III 3rd Strike, released only a few months earlier). Console ports for the Playstation and Dreamcast were also released that year (minus the subtitle).
A high-definition version of the game was released on PlayStation Network and Xbox Live Arcade in August 2012, before being removed from both platforms in September 2014.
Characters
Edit
| Playable Fighters (JoJo's Venture) | Stand | Info |
| --- | --- | --- |
| Jotaro Kujo | Star Platinum | When Joseph Joestar's grandson first appears, Jotaro is turning himself in to the police because he believes his Stand is an evil spirit possessing him. Joseph comes to Jotaro's aid with Mohammed Avdol. A brief fight ensues, getting Avdol involved. After Jotaro is released from jail and learns more about his Stand, he discovers that the evil vampire Dio Brando must be destroyed, or his mother will die. |
| Joseph Joestar | Hermit Purple | His stand manifests itself as a tangle of thorny vines, which Joseph can wield as both weapon and defense. They are relatively weak; however, Hermit Purple also provides Joseph with considerable telepathic ability. |
| Young Joseph/JoJo | None | The version of Joseph is from the "Battle Tendency" arc in the manga series (before "Stardust Crusaders"). He does not have a Stand, and instead uses his Hamon-based powers. |
| Muhammed Avdol | Magician's Red | Iggy's owner and tamer, Avdol helped awaken Jotaro's own powers. He was first felled by Hol Horse (and revived due to fan demand.) He is eventually vaporized by Iced. |
| Noriaki Kakyoin | Hierophant Green | The pink-haired student was initially brainwashed by Dio into attempting to kill Jotaro. After being freed, he joins the heroes in their fight against the vampire. He found out and discreetly revealed the secret of Dio's Stand, the ability to stop time, to his friends, at the cost of his life. |
| Jean Pierre Polnareff | Silver Chariot | Like Kakyoin, a former enemy turned ally, who fell under Dio's influence twice, disposing the most amount of enemies alongside the Joestars. He would survive the adventure and find himself working with Dio's son for a righteous cause, albeit in a reduced capacity. Polnareff was the biggest inspiration towards the character design of SNK's The King Of Fighter character Benimaru Nikaido. |
| Iggy | The Fool | A little Boston Terrier possessing the power of a Stand. While trying to defend Polnareff, he is decimated by Iced. In the Japanese version, Iggy can talk. |
| Alessi | Sethan | His Stand has the ability to transform anyone who steps on the Stand's shadow to become younger the longer they stand on it, even to the point of becoming a fetus. |
| D'Bo (Devo the Cursed in Japan) | Ebony Devil | A Native American shaman who works as an assassin for hire, using the Ebony Devil doll to do the dirty work. |
| Chaka | Anubis | His Stand is a sword that possesses its wielder, and remembers all attacks it encounters. |
| Midler | High Priestess | Her Stand can take the form of anything, utilizing the metals and minerals around it. She was not originally in the manga storyline and is brand-new to the JoJo franchise. Although defeated in the original storyline, Midler's design from this game was integrated into the JoJo universe. She was possibly inspired from an earlier JoJo game that introduced her as a stewardess. |
| Iced (Vanilla Ice in Japan) | Cream | Dio's most loyal henchman. His Stand Cream can create a dimensional void. If any part of an object touches the sphere, that part is irrevocably gone, sucked into the void and vaporized. After proving his loyalty to Dio by cutting off his own head, Dio resurrects him as a vampire. |
| Dio Brando | The World | The main antagonist, who became a vampire through the Stone Mask artifact. He wields The World, a Stand that can stop time. At the bottom of the sea, Dio's severed head reattached itself to Jonathan Joestar's lifeless body (giving Dio the same star birthmark as the members of the Joestar family). After he returns to land, he develops a Stand, giving him vastly powerful new abilities on top of his vampiric powers, in addition to an inherent connection with the Joestar family. Jonathan's grandson Joseph soon learns of his return. He is survived by some of his women that he impregnated, and children, among them Giorno Giovanna, who would later become a protagonist of a JoJo series arc himself. |
| Shadow Dio | None | Based on Dio when he is seen bathed in the shadows of his mansion, the version of him can be quite powerful. |
| Playable Fighters Added or Introduced in JoJo's Bizarre Adventure | Stand | Info |
| --- | --- | --- |
| Hol Horse | The Emperor | An arrogant cowboy and the wielder of the Emperor Stand, which takes the form of a revolver. Upon being fired, the Emperor can control the bullet's flight path, allowing it to turn in midair. At first, his ally was J. Geil, who killed Polnareff's sister, Sherry. Geil was killed by Polnareff in vengeance-motivated attack. |
| Mariah | Bast | Her Stand inflicts an increasingly powerful magnetic charge upon the victim. She was outsmarted by Joseph and Avdol, leading to her defeat. |
| Petshop | Horus | He is a large falcon with the sole job of guarding Dio's mansion. He serves as Iggy's main adversary. |
| Black Polnareff | None | Polnareff touching the Anubis sword after defeating Chaka resulted into this character. Like Chaka, he is able to remember attack patterns and use them to his advantage. Again, Jotaro saved him from the enslavery, the first time being from Dio's own cells infesting his head. |
| Rubber Soul (Bonus Character) | Yellow Temperance | An evil man who uses his Stand to disguise himself as Kakyoin. |
| Khan (Bonus Character) | Anubis | Though not his Stand's original user, Anubis possesses him upon contact. A barber who unsheathed the Anubis sword out of curiosity, resulting into a menacing foe that Jotaro later defeated. |
| Hol Horse and Voing | The Emperor and Thoth | After Geil's death and earning Enya Geil's wrath for it, his devotion to Dio was renewed after an incident in the Egypt mansion that demonstrated Dio's true powers. To confront the Joestar party again, he teams up with Boingo, who is out to avenge his brother Oingo after he was injured by Polnareff. |
About The Game
Edit
The game combines Capcom's trademark anime-inspired graphics, as seen in the Darkstalkers series, with the colorful characters and events of Hirohiko Araki's creation, resulting in a highly stylized and detailed visual style. It also features many of the gameplay mechanics seen on previous Capcom fighting games, such as the use of power gauges for super moves, as well as a brand new Stand Mode. In the game's storyline (inspired from the manga), a Stand is a manifestation of the psyche, or a spirit, that accompanies each character and can be summoned or dismissed at will by the player, resulting in variations on the character's move list and abilities. Despite their power, Stands hold one drawback; any damage received by the Stand is transmitted to its user.
Hirohiko Araki served as a consultant for the game and created exclusive pieces of artwork for its promotion and packaging; most notably, he developed from scratch a new character design for Midler, since Capcom was interested in using her in the game and she had been only vaguely shown in the original manga.
Arcade Version [Staff] [Venture]
Edit
Planner: Shinichiro Obata, Yo CC Fukuda, Mamoru Ohashi
Programmer: Tomohiro Ueno, Batayon, Hideo Sako (Hdo), T・Kimoto (Dress), Y・Inada (Ine), Oh!Ya!, Yoji "GM009p" Mikami
Scroll Design: Nakatsuka, Kisabon, Chiezou Morisaki, Inoyan, Kanno, Yamasan, Kajita
Object Design: Ball Boy, Q, Kaname, Tsuyoshi, Fujii & Peliko, AHOGEN hiroshi, Narancia, Tatsuya Oshima, Yoshihiro Goda, Shiniya M, Mizuho, M・Katagiri
Design Works: Ukabin, Da・Uchi, Sakomizu
Music Compose: Yuko Takehara, Setsuo Yamamoto
Sound Design: Moe・T (Migya), E・Masayuki (Up・Tail)
Voice Actor: Hisao Egawa, Tohru Ohkawa, Yoshitada Ohtsuka, Yuji Kishi, Tsutomu Tareki, Isshin Chiba, Takashi Nagasako, Miki Nagasawa, Mitsuaki Madono, Kiyoyuki Yanada
Special Thanks: Takuya Shiraiwa, Maki Yoshiura, Erik Suzuki, Dan Okada, Chris Tang, Manatee, Eiichiro Sasaki, Yuji Matsumoto, Wataru Kondo
Producer: Kouji Nakajima
General Producer: Noritaka Funamizu
Executive Producer: Yoshiki Okamoto
And Capcom All Staff

Arcade Version [Staff] [Bizarre Adventure]
Edit
Planner: Shinichiro Obata, Yo JB Fukuda, Mamoru Ohashi, Koji Shimizu
Programmer: Tomohiro Ueno, Batayon, Hideo Sako (Hdo), T・Kimoto (Dress), Y・Inada (Ine), Oh!Ya!, Yoji "BD1" Mikami
Scroll Design: Nakatsuka, Kisabon, Chie Morisaki, Inoyan, Kanno, Yamasan, Masanori Kajita, Takashi Fujiwara
Object Design: Ball Boy, Q, Kaname, Tsuyoshi, Fujii & Peliko, AHOGEN hiroshi, Narancia, Tatsuya Oshima, Yoshihiro Goda, Shiniya M, Mizuho, M・Katagiri, Nishimura M, Tomohiko Ohsumi
Design Works: Ukabin, Da・Uchi, Sakomizu
Music Compose: Yuko Takehara, Setsuo Yamamoto
Sound Design: Moe・T, Masayuki Endo
Voice Actor: Hisao Egawa, Tohru Ohkawa, Yoshitada Ohtsuka, Yuji Kishi, Tsutomu Tareki, Isshin Chiba, Takashi Nagasako, Miki Nagasawa, Mitsuaki Madono, Kiyoyuki Yanada, Show Hayami, Yoshito Yasuhara, S・Obata
Special Thanks: Takuya Shiraiwa, Maki Yoshiura, Erik Suzuki, Dan Okada, Chris Tang, Manatee, Eiichiro Sasaki, Yuji Matsumoto, Wataru Kondo
Producer: Kouji Nakajima
General Producer: Noritaka Funamizu
Executive Producer: Yoshiki Okamoto
And Capcom All Staff
Presented by: Capcom
PSX Version [Staff] [Venture]
Edit
Planner: Shinichiro Obata, Yo HG Fukuda, Mamoru Ohashi, Koji Shimizu, Nuki.R.Jyo, Oni-Suzuki, Hideaki Itsuno
Programmer: Tomohiro Ueno, Batayon, Hideo Sako (Hdo), T.Kimoto (Dress), M&Y.Inada (Ine), Oh!Ya!, Yoji Mikami, Yuzoh Tsunazaki, T.Furuko, M.Nakanowatari, H.M.D., Motsu, Teruaki Hirokado, Kaw.Tld
Scroll Design: Nakatsuka, Inoyan, Kisabon, Chie Morisaki, Masanori Kajita, Takashi Fujiwara, Kenji Kushiro, Kanno
Object Design: Ball Boy, Q, Kaname, Tsuyoshi, Fujii & Peliko, Hiroshi Ahogen, Narancha, Tatsuya Oshima, Yoshihiro Goda, Shiniya M, Mizuho, M.Katagiri, Nishimura M, Tomohiko Ohsumi, Chunzenji, Koji Nijiniji
Design Works: Ukabin, Da.Uchi, Sakomizu, Jiwasaki
Music Composer: Yuko Takehara, Setsuo Yamamoto
Sound Designer: Moe.T, Masayuki Endo, Satoshi Ise
Adventure's Music Composer: Satoshi Ise, Masayuki Endo, Yoshiki Sandou
Recording Engineer: Kazuya Takimoto
Voice Actor: Naoko Ishii, Hisao Egawa, Tohru Ohkawa, Yoshitada Ohtsuka, Yuji Kishi, Tsutomu Tareki, Sanae Takagi, Wataru Takagi, Junko Takeuchi, Eiji Takemoto, Isshin Chiba, Hidetoshi Nakamura, Takashi Nagasako, Miki Nagasawa, Show Hayami, Mitsuaki Madono, Kiyoyuki Yanada, Yoshito Yasuhara
Special Thanks: Takuya Shiraiwa, Manatee, Maki Yoshiura, Erik Suzuki, Dan Okada, Chris Tang, Manatee, Eiichiro Sasaki, Yuji Matsumoto, Wataru Kondo, Yoshirou Okamoto, Chikahiro Kawanishi, Yoshihiro Tomita, Yuki Nitanda, Nosetate, Tatsuya Hamada, Akinori Murata, Ayanagi Motoyama, Tomoyuki Yokota, Yasushi Kuroe, Masayasu Mukai, Hiroki Matsumoto, K.Nouchi, Meijin, Ysk
Producer: Kouji Nakajima
General Producer: Noritaka Funamizu
Executive Producer: Yoshiki Okamoto
And Capcom All Staff
Presented by: Capcom
Merchandise and Advertisement
Edit
External Links
Edit