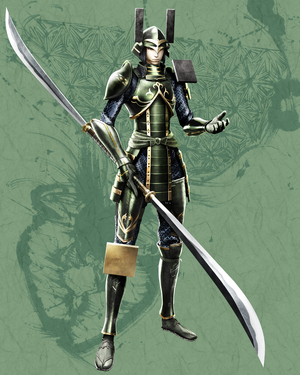 Katsuie Shibata is a character from the Sengoku BASARA series of games set in feudal Japan. He made his first appearance (in current form) in Sengoku BASARA 4. Katsuie's weapon of choice is a double-bladed naginata and his element is wind.
Katsuie Shibata is a vanguard in the Oda army clad in green armor. His master is Nobunaga. Under his helmet is jet black hair in a bowl-shaped haircut.
In Japanese History
Edit
Ad blocker interference detected!
Wikia is a free-to-use site that makes money from advertising. We have a modified experience for viewers using ad blockers

Wikia is not accessible if you've made further modifications. Remove the custom ad blocker rule(s) and the page will load as expected.