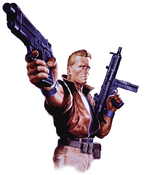 Ken Smith is the protagonist of Capcom's 1989 action game Code Name: Viper (Dead Fox in Japan).
Commander Jones sent Ken on a mission to South America to take down a huge drug syndicate, and to rescue captured comrades.
Spoiler Alert
Much to his surprise, Ken Smith finds out that Commander Jones was behind the whole thing and, as a result, he ends up killing his own Commanding Officer.
Even though Smith destroyed the underground drug routes Jones was involved with, it doesn't mean he stopped the syndicate that wanted to conquer the world through drugs. He fought alone against the huge cartel even as he learned that his own Special Mission was involved with drugs.
Ad blocker interference detected!
Wikia is a free-to-use site that makes money from advertising. We have a modified experience for viewers using ad blockers

Wikia is not accessible if you've made further modifications. Remove the custom ad blocker rule(s) and the page will load as expected.