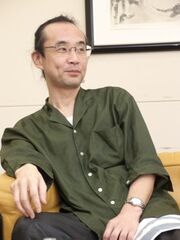 Kouichi Yotsui (四井浩一) is an artist who worked at Capcom as a game designer with his biggest hit being the 1989 arcade, Strider. He was credited under the nickname Isuke.
By his own admission, he was a poor high school student because he preferred to draw instead of study. He enjoyed fantasy illustrations, but upon deciding that still pictures were "useless", he attended Osaka University of Arts, where he studied film.
Career at Capcom
Edit
After finishing University, he applied to Capcom in 1986 after seeing a magazine advertisement saying Capcom paid the highest starting salaries.
Yotsui worked for Capcom's First Development Division under Tokuro Fujiwara. As a background illustrator, he contributed to Capcom's 1986 game The Speed Rumbler, the arcade version of Bionic Commando, and Ghouls 'n Ghosts, as well as submitting game proposals that ultimately were rejected.
After Yotsui worked for Capcom for two to three years, Akio Sakai joined Capcom as the Head of Development. Sakai suggested collaboration between Capcom and Moto Kikaku, that would eventually led to Capcom's 1989 arcade, Strider. Capcom placed Yotsui in charge of the arcade version, an appointment he speculates may have either been due to his previous experience with the CPS-1 or possibly his cancelled proposals.
Yotsui's team developed their game with the idea that it was a "competition" with the other two Strider projects (the consumer version and the manga), and that theirs was "most important". Although there was tension over the long hours he demanded from his team, Yotsui felt that if they would just do as he instructed, they would be fine, and was unsurprised when their game ranked first at a game show.
Nevertheless, Yotsui's Strider ran behind schedule. Yotsui believes it underperformed in the sales department, noting that rumors within Capcom attributed its poor sales to that delay. He left Capcom not too long after the games' release in '89. He is currently a freelance game designer.
Works at Capcom
Edit
Strider (Arcade Version) (1989) -- Game Planner (as Isuke).
External Link
Edit