LED Storm
, known as
Mad Gear
(マッド・ギア) in Japan, is an arcade game released in 1989. The acronym "LED" stands for "Laser Enhanced Destruction".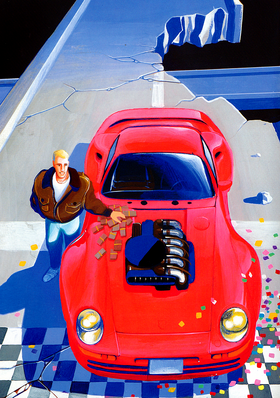 It is a vertical scrolling racing game. The player has top view and control of the car for speed, left, right, and jump. The player races across various courses, and can force other cars off the road or jump on top of them.
Staff at Capcom came up with the name of the Final Fight thugs, the Mad Gear Gang, from the Japanese title of this game. Today, this remains what the game is best known for, if at all. It is one of Capcom's more obscure games.
Credits [Staff]
Edit
Plan: P.Takashi, T.Sadamoto
Game Design: T.Sadamoto
Program: N.Kaneko, Akikoro, Ken.Ken, Maekawa
Character Design: K., Ashenden
Art: Puttun.Midori, Inu, Innocent.Saicho
Sound: Ogeretsukun
Hard: Masayan
Special Thanks: Mr. K, SX200R, Helper One, Yasukichi, Chakkari Minoru, and You.
Presented by: Capcom
Ad blocker interference detected!
Wikia is a free-to-use site that makes money from advertising. We have a modified experience for viewers using ad blockers

Wikia is not accessible if you've made further modifications. Remove the custom ad blocker rule(s) and the page will load as expected.