Last Duel
is a shoot-'em-up vertically-scrolling arcade game that was first ported to home computers, and then years later to home consoles.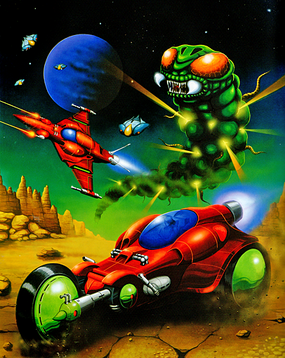 This game is included in Capcom Classics Collection Vol. 2 for the PlayStation 2 and Xbox.
During the battle between the planets Mu and Bacula, the beautiful Princess Sheeta had been abducted by the Golden Tribe. As an ace driver and fighter pilot, it's up to the player to board a high tech neutron-powered hybrid car/spaceship, wage a one-man battle against the galactic uprising and battle through six levels in order to save her.
Gameplay
Edit
The player starts the first level in the car, and then swaps between the car and the hoverplane for every successive level. A second player can also join the action, although he/she can only use the hoverplane.
Credits [Staff]
Edit
Character Design: Kuntakinte Ito, Hyper Kaz, Pradox Koichi, Donarudo Chiyo, Travail Kuniko, Tadano Oyu, Chakkari Minoru
Music and Sound: Golden Tamayo
Special Thanks: Helper One, Famicon Akira, Ocan Miyuki, 
Program: Yumiko, Yuzoh
Planning: Moomin Hiroyuki
Director: Piston Takashi
Presented by: Capcom
Ad blocker interference detected!
Wikia is a free-to-use site that makes money from advertising. We have a modified experience for viewers using ad blockers

Wikia is not accessible if you've made further modifications. Remove the custom ad blocker rule(s) and the page will load as expected.