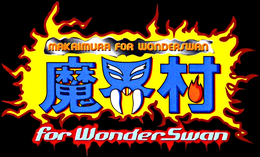 Makaimura for WonderSwan is a run 'n gun platform game in Capcom's Ghosts 'n Goblins series. It was developed by Bandai instead of Capcom and is usually not counted as an "official" installment in the franchise. Makaimura for WonderSwan is based on the original game, and was released only for the WonderSwan.
Gameplay
Edit
The game is largely similar to its prequels, and has almost the full cast from the previous three games appearing. It is much like the first two games as far as gameplay. Arthur can also in this game swim (with or without armor), and can climb rope.
Makaimura for WonderSwan is known as the least challenging and difficult of the games in the Ghosts 'n Goblins series. However, it still isn't easy.
Players once again control the knight Arthur in his effort to save Guinevere from more monsters.
Characters
Edit
Franken Zombie - The Stage 1 Boss; appears to be something like Frankenstein's Monster and mostly spits on the player.
Ghost Tower - The Stage 2 Boss; appears after going through the door out. It mostly shoots cannon balls and spits out boulders.
Dragons - The Stage 3a Boss; spits flame balls at the player.
Efreet - The Stage 3b Boss; is something like a walking fish and attacks with bubbles and little versions of itself.
Nightmare - The Stage 4 Boss; is a horse that has 4 fire balls circling it, and will have the fire balls come at the player.
Rangda - The Stage 5 Boss; is a large magician that attacks much like a smaller one, except it also makes the screen black with only a spotlight.
Tiamat - The Stage 6 Boss; has two forms and the first is of a guy with a sword, the second of a three headed hydra-type thing.
Demon Emporer Azazel - Last Boss.
Staff
Producer: Toshihiro Suzuki
Assistant: Shun Satou
Planner: Caramel Mama, Tsuneo Matsumoto, Hisayasu Suzuki, Satoru Nakanishi, Yoshiyuki Urushibara, Hiromi Higano
Director: Wataru Nakama, Bingo
Programmer: Naoki Gotoh, Tatsu, Nakano K, Yap, Noboru Yamaguchi, Naoya Kawakami, Keiichi Moriya, Gusa
Graphic Artist: Katana, T·Toda, Kou Okamoto, Naoki Mori, Miepi, Yoshihide, Hiroyuki Higashiyama, Naoki Youyama, Reiko Umemoto
Sound Artist: Yuko Aoki

Capcom Staff
Yoshiki Okamoto, Noritaka Funamizu, Tatsuya Minami, Kouji Oda, Takashi Kitahara, Jun Nishino, Jyunichi Nagai, Kana Urasawa

Public Officer: Masashi Umeda, Hiroshi Shimada, Tsuyoshi Satou, Takahiro Sasanoi, Naomi Aikou
Test Play: Studio Stat
Special Thanks: Nobuyuki Tanaka, Toshimitu Sakairi, Yusuke Sasaki, Kaku Hanazawa, Jun Enomoto, Daisuke Ban, Takeshi Sasaki, Joji Niiyama, Hidemi Hamada, Shinya Miyakawa, Yasushi Koyama, Naoko Kurihara, Satoshi Nogami, Kenichi Katano, Hiroki Takamine, Makoto Washikita
Presented by: Bandai

External Links
Edit