Marvel Super Heroes
is a fighting game developed by
Capcom
. Originally released in the arcade in 1995 on the
CPS-2
arcade system, it was later ported to the Sega Saturn and PlayStation.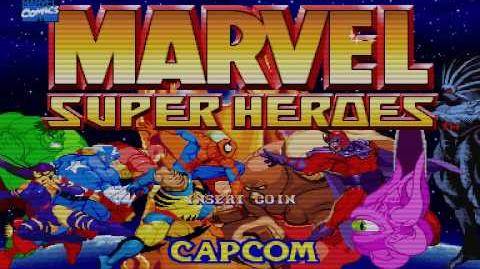 The game features many superheroes and supervillains from the Marvel Comics line, including Spider-Man, Doctor Doom, and the Hulk. It was dedicated to the memory of Jack Kirby, with character artwork based on his old designs.
The game is loosely based on the Infinity Gauntlet storyline, with the heroes and villains battling each other for the Infinity Gems. The final boss is Thanos, who steals whatever Gems the player had collected (at that point, all but the sixth gem, Mind) and uses them against the player, but with each gem having a strange, new effect when used by Thanos.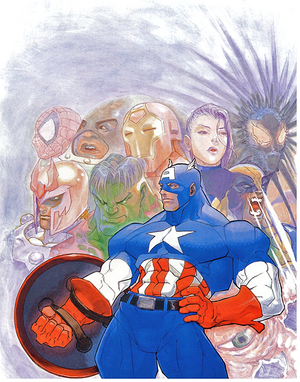 The game played similar to Capcom's previous Marvel-licensed fighting game, X-Men: Children of the Atom, but with a more simplified use of the super combo gauge, and the addition of the Infinity Gems. Each Gem could be activated in battle, giving the user a different power for a few seconds. In addition, each character had a Gem that they had a special affinity for, and would get additional abilities whenever they activated it.
Infinite Combos
Edit
Enterprising players have found a few characters in Marvel Super Heroes who are able to perform infinite combos (i.e. combos that can be sustained until a foe's lifebar is depleted) that are mostly unblockable or unavoidable when hit. For instance, Wolverine is able to attack a regular-sized foe with a 5-6 hit combo before launching them into the air for an aerial combo, continue with a 3-4 hit combo that ends with a strong punch/kick that brings aerial foes down to the ground. The instance before hitting the ground, he is able to hit grounded foes and launch them again to continue the barrage, thus starting the infinite combo system. Spider-Man also has an infinite combo move utilizing the Spider Sting. The infinite combo routine is also present in the sequel, X-Men vs. Street Fighter and has become a feature that has returned in future installments like Marvel vs Capcom 2. By that game however, safeguards reduced their lethality using things like Damage scaling to reduce infinites to little or no damage and "Dizzy Outs", which popped a character free if the same chain was used for over 50 hits.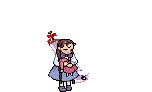 The game features an appearance by Anita of Darkstalkers fame in the Japanese version. She uses Dhylec, the sword that Donovan uses, in her attacks.
Arcade Version [Staff Credit]
Edit
Planner: Takeshi Tezuka, T.Iijima, Tomichin∞, Kiyoshi Nishikawa, Kei Hiratou, Satoru Kimura
Programmer: Tarabar–Black, Aoi–Peach, Kaw–K・MARIchan, Silver–Kadontz, Nobu–Sasami, Knishi–"MadDogMc", Pon, DNA, Frk, Yama, Ueno, Youji
Object:
Thanos: Thing・Sakashita, D–Kurita, Takayuki Kosaka, Masako・Satoh

Dr. Doom: S・Yamashita, Ino, Seigo.Kawakami

Wolverine: Akiman

Spider-Man: Arahijuf, Rumi♥Yamaguchi, T・Shirahama

Captain America: Masaaki・Tanaka, Chimorin Shogun, Misako

・

Yamamoto

Psylocke: Eripyon・N

Hulk: Makoto Ishi, Takechan, Miwa, Kanako・Takami

Iron Man: Hiroaki Yoshino, Kiai Ryuken, Yukikaze, You

・

Ten

・

Nakano, Yutaka Maruno, Gepezou, Kenji Mimura, K.Tokunaga, E・Murabayashi, Rika., Naoki Fukuda, Takep, Henoheno, Yuki

Magneto: A.Iwasaki

Shuma-Gorath: M・Tsujimoto, Jun Matsumura 27, Shinya・M, Kako, Masanori Kondo

Blackheart: Alien.Pole, Fnyaco

・

F

・

Fnyao, Dway Nishimura, Oyabin

Juggernaut: Hiroaki Minobe, R・Sato, Kazuko♥Kawanaka

Effect: Ntengm

・

Nakatani, Sagata, Tanuki, Kimo Kimo

Scroll: Konomi, Buppo, Kayoko Shibata, Daisuke Nakagawa, Yumiko, Takapon, Akiko Matsunaga, Satomi Ishii, R.K, T.Yoichi, M
Music Compose: Anarchy "Takapon", Yuki "Wewe" Satomura, Zuzuki Tatsuro–
Sound Design: Picard Mij, Satoshi "AYANO" Ise, Ryoji
Voice Design: Hiroaki "New–X?" Kondo
Sound Produce: Arcade Sound Team
Voice Actor:
Captain America, Wolverine: Mr. Cal Dodd

Blackheart: Mr. Jeimz Woolvet

Psylocke: Ms. Catherine Disher

Shuma-Gorath: Mr. Frank Perry

Spider-Man: Mr. Patrick Chilvers

Hulk, Thanos: Mr. Andrew Jackson

Juggernaut: Mr. Rick Bennett

Iron Man: Mr. Chris Britton

Announcer, Dr. Doom, Magneto: Mr. Lome Kennedy

Special Thanks:
In memory of Jack "King" Kirby
Saturn and PSX Versions [Staff Credit]
Edit
Planner: Takeshi Tezuka, T.Iijima, Tomichin∞, Kiyoshi Nishikawa, Kei Hiratou, Satoru Kimura
Programmer: Tarabar–Black, Aoi–Peach, Kaw–K・MARIchan, Silver–Kadontz, Nobu–Sasami, Knishi–"MadDogMc", Pon, DNA, Frk, Yama, Ueno, Youji
Object:
Thanos: Thing・Sakashita, D–Kurita, Takayuki Kosaka, Masako・Satoh

Dr. Doom: S・Yamashita, Ino, Seigo.Kawakami

Wolverine: Akiman

Spider-Man: Arahijuf, Rumi♥Yamaguchi, T・Shirahama

Captain America: Masaaki・Tanaka, Chimorin Shogun, Misako

・

Yamamoto

Psylocke: Eripyon・N

Hulk: Makoto Ishi, Takechan, Miwa, Kanako・Takami

Iron Man: Hiroaki Yoshino, Kiai Ryuken, Yukikaze, You

・

Ten

・

Nakano, Yutaka Maruno, Gepezou, Kenji Mimura, K.Tokunaga, E・Murabayashi, Rika., Naoki Fukuda, Takep, Henoheno, Yuki

Magneto: A.Iwasaki

Shuma-Gorath: M・Tsujimoto, Jun Matsumura 27, Shinya・M, Kako, Masanori Kondo

Blackheart: Alien.Pole, Fnyaco

・

F

・

Fnyao, Dway Nishimura, Oyabin

Juggernaut: Hiroaki Minobe, R・Sato, Kazuko♥Kawanaka

Effect: Ntengm

・

Nakatani, Sagata, Tanuki, Kimo Kimo

Scroll: Konomi, Buppo, Kayoko Shibata, Daisuke Nakagawa, Yumiko, Takapon, Akiko Matsunaga, Satomi Ishii, R.K, T.Yoichi, M
Music Compose: Anarchy "Takapon", Yuki "Wewe" Satomura, Zuzuki Tatsuro–
Sound Design: Picard Mij, Satoshi "AYANO" Ise, Ryoji
Voice Design: Hiroaki "New–X?" Kondo
Sound Produce: Arcade Sound Team
Voice Actor:
Captain America, Wolverine: Mr. Cal Dodd

Blackheart: Mr. Jeimz Woolvet

Psylocke: Ms. Catherine Disher

Shuma-Gorath: Mr. Frank Perry

Spider-Man: Mr. Patrick Chilvers

Hulk, Thanos: Mr. Andrew Jackson

Juggernaut: Mr. Rick Bennett

Iron Man: Mr. Chris Britton

Announcer, Dr. Doom, Magneto: Mr. Lome Kennedy

Special Thanks:
Consumer Staff: Hyper Mickey, Koji Oda, Tomohiko Saito, Kanekon, Masatsugu Shinohara, Ryutaro's Mama, Hideaki Katagiri, toshio kajino, Ryoji, Satoshi Ise, Hiroaki "X68k" Kondo, Koji Nakajima, and All Capcom Staff

In memory of Jack "King" Kirby
Presented by: Capcom
Merchandise and Advertisements
Edit
External Links
Edit