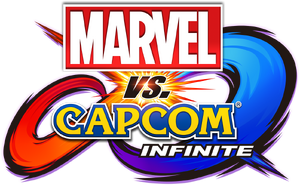 Marvel vs. Capcom: Infinite (also refered unofficially as Marvel vs. Capcom 4) is an upcoming crossover fighting game being developed by Capcom. It is the sixth entry in the Marvel vs. Capcom series of crossover fighting games featuring characters from Capcom and characters from the superhero comic book company Marvel Comics. The game was first announced at the PlayStation Experience 2016[1] and will be released in September 19th, 2017 for the PlayStation 4, Xbox One, and PC.
Similar to Marvel vs. Capcom: Clash of Super Heroes and earlier installments in the franchise, Marvel vs. Capcom: Infinite will feature a two-on-two battle system, instead of the three-on-three system used since Marvel vs. Capcom 2. The game will implement the Infinity Stones system, a returning gameplay mechanic from Marvel Super Heroes, where each stone provides a unique ability.[2]
Infinite will also include a cinematic story mode, single-player modes (such as Training, Mission, and Arcade Mode), online multiplayer with ranked and casual matches, global leardboards, and online lobbies with spectating. The game also features six addtional DLC characters and six Premium Costumes for certain fighters.
Characters
Edit
Development
Edit
Following the release of Ultimate Marvel vs. Capcom 3 for the PlayStation Vita in 2012, Marvel's new parent company, The Walt Disney Company, which acquired Marvel in 2009, chose not to renew their licensing deal with Capcom, instead opting to move its viable properties towards their self-published game titles, such as the Disney Infinity series; this resulted in Ultimate Marvel vs. Capcom 3 and Marvel vs. Capcom 2: New Age of Heroes being removed from the Xbox Live Arcade and PlayStation Network in 2013.[3] However, in May 2016, Disney announced its decision to stop making video games, discontinue self-publishing efforts and switch over to a licensing-only model, allowing Capcom to renegotiate its license with Marvel.[4][5] Marvel vs. Capcom: Infinite was officially unveiled during Sony's third PlayStation Experience event in early December 2016. The first gameplay footage debuted on the same day following the conclusion of the Capcom Cup 2016.
Capcom's veteran director, Norio Hirose, will be directing the game. Other developer team members from previous Vs. series are working on developing this game.[citation needed]
According to Marvel Comics and Capcom representatives, the decision to change the three-on-three battle system from the series' previous iteration was considered for a long time before ultimately settling on two-on-two fights for the sake of accessibility.[6] Capcom's Director of Production, Michael Evans, sought to give casual Marvel vs. Capcom fans the ability to get into the game without being overwhelmed by introducing a more manageable two-character system. Infinite is designed to be a "more elegant and simplified" game but still as "complex and hardcore" as past Marvel vs. Capcom installments. To expand the number of options for players, the "X-Factor" and assist attack mechanics from Marvel vs. Capcom 3: Fate of Two Worlds were removed in favor of the six Infinity Stones to provide teams with additional customization, and utilizes Switch Cancel combo, akin to Street Fighter X Tekken. Marvel and Capcom compared the Infinity Stones to the "Groove System" used in Capcom vs. SNK 2 and the latter company's goal with the Infinity Stones was to create a level playing field by acting as a comeback enabler, and allowing players to compensate for their characters' deficiencies and enhance their strong points.
Beyond appealing to genre and series fans, Capcom sought to target a diverse audience with Infinite and bring in casual players who were fans of Marvel's comic books, movies and television shows. To this end, the developers wanted to introduce a more robust, cinematic story compared to previous Marvel vs. Capcom titles.[7] Frank Tieri, the lead writer for Marvel vs. Capcom 3: Fate of Two Worlds, confirmed his involvement with Infinite on Twitter.[8] Bill Rosemann, Creative Director at Marvel Games, stated that Infinite's emphasis on storytelling was largely influenced by Marvel's story and character-centric approach to their recent projects in games, film, and television; Insomniac Games' upcoming Spider-Man video game, Telltale Games' future Guardians of the Galaxy episode series and Marvel's successful Netflix series have been cited as examples.[9][10] Capcom also promised a larger variety of single-player and multiplayer content at launch; the promise for a "feature-rich" product appears to have resulted from experiences with Marvel vs. Capcom 3 and Street Fighter V, both of which were criticized for its lack of content upon release, especialy the former game which was originally also promised with a robust single-player story mode with Frank Tieri as story writer.[citation needed]
According to Bill Rosemann in DICE 2017, Marvel vs. Capcom: Infinite will not involve anything related to movie rights issues since it was lasted on Marvel: Contest of Champions.[11]
Merchandise
Edit
There are three types of editions for fans who pre-order the game; Standard Edition contains "Warrior Thor" and "Evil Ryu" premium costumes for Thor and Ryu. Deluxe Edition contains everything from the Standard Edition and addtionally "Gladiator Hulk" and "Command Mission X costumes for Hulk and X as well as the "2017 Character Pass", which will give players access to six post-launch characters. Collectors Edition has all everything Deluxe Edition offers, in addition to four detailed, interlinking dioramas from TriForce and LED-powered Infinity Stones.
Marvel vs. Capcom: Infinite is notable for having these distinctions in the Marvel vs. Capcom series.

The first installment to include an alternate version of the original Mega Man as a playable character, not counting Zero's X costume in Ultimate Marvel vs. Capcom 3.
The first game to feature the Infinity Stones, last featured in the series' precursor game Marvel Super Heroes.
The second game to feature an "original" main antagonist, first being Marvel vs. Capcom 2 which featured Abyss. Although in this case, the antagonist, Ultron Sigma, is a fusion between two villains from Marvel and Capcom.
References
Edit
External Links
Edit
Ad blocker interference detected!
Wikia is a free-to-use site that makes money from advertising. We have a modified experience for viewers using ad blockers

Wikia is not accessible if you've made further modifications. Remove the custom ad blocker rule(s) and the page will load as expected.