Mega Man: Dr. Wily's Revenge (Rockman World in Japan) is the fourth game in the Mega Man Classic series of action platformer games. It is the first of the Mega Man World games for the Game Boy, and was released in 1991. The director of the original game Tokuro Fujiwara was producer.
Gameplay
Edit
Characters
Edit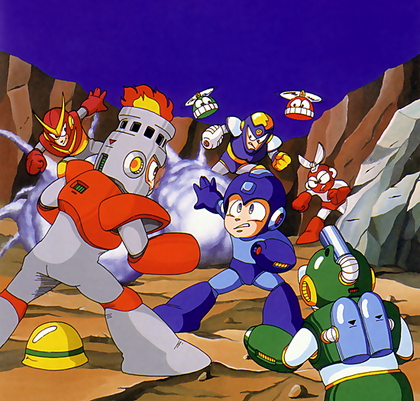 Dr. Wily has another new plan to take over the world, but he isn't creating new Robot Masters this time. He revives eight Robot Masters, in another attempt to see if they can defeat Mega Man. Four of them attack the city, while the other four protect his base. He also has decided to take his plan into another frontier: space! Dr. Wily has built a space station called the "Space Node", from which he intends to unleash his plan, to use the "Mega Man Killer" Enker, who can absorb Mega Man's shots with his special Mirror Buster lance.
Credits (or lack thereof)
Edit
Though this game does not feature a staff roll (as with the rest of the series), the Canadian copyright record lists nine people involved with the game
Masatsugu Shinohara, Koji Yoshida, Yasushi Ikeda, Hayato Kaji, Makoto Tomozawa, Miki Kijima, Kiyomi Kaneko, Toshio Kajino, Keiji Inafune
Based on their known roles, a proper staff roll would closely resemble the following:
Planner: Tokuro Fujiwara
Object Design: Hayato Kaji, Keiji Inafune
Scroll Design: Miki Kijima
Sound Program: Yasushi Ikeda, Makoto Tomozawa, Toshio Kajino
Programmer: Masatsugu Shinohara, Koji Yoshida, Kiyomi Kaneko
Box Art and Advertisement
Edit
External Links
Edit
Ad blocker interference detected!
Wikia is a free-to-use site that makes money from advertising. We have a modified experience for viewers using ad blockers

Wikia is not accessible if you've made further modifications. Remove the custom ad blocker rule(s) and the page will load as expected.