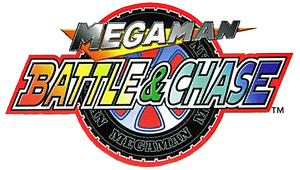 Mega Man Battle & Chase (Rockman: Battle & Chase in Japan) is a racing game in the Mega Man Classic series. It was produced by series creator Keiji Inafune. Battle & Chase was released for the Playstation in 1997, and re-released for the PlayStation 2 and GameCube as part of the Mega Man X Collection.
Characters
Edit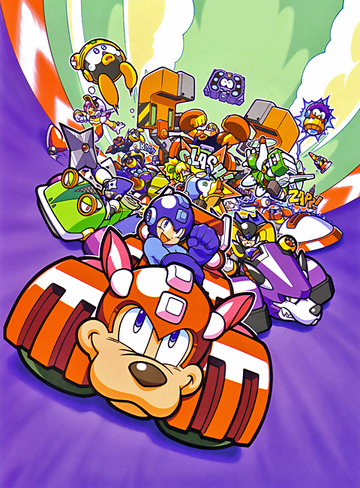 Chest - gives descriptions of courses and parts to the player. He also appeared in Rockman Strategy.
Ripot - gives the prize after defeating all racers.
A new hit show has just been released, called "Battle and Chase". It is an extreme racing show, that pays off a large amount of money. Dr. Wily enters, and plans to steal the prize money for his own evil purposes. When word reaches Mega Man, he decides to enter and use the prize money to fix Dr. Light's computer. Soon, word reaches everyone and many others decide to enter for their own gain. It becomes a challenge where the stakes are high, and the reward is higher.
The cars of Mega Man and Proto Man, Rush Roadstar and Red Striker, appear as toys in Mega Man ZX.
The Yashichi appears as an item which grants turbo speed and temporary invulnerability.
Producer: Keiji Inafune
Planner: Masahiro Yasuma, Hayato Tsuru
Programmer: Shinya Ikuta, Souichi Itou, Masaki Kataoka, Katsunori Oida 26
Sound Tool Programmer: Tomohiro Masuda, -TKNY- T・Kawakami
Object Designer: Tomoyuki Hashinaga, Kukehyon, Masafumi Kimoto
Scroll Designer: Nariko Suyama, Hidesato Sueyoshi, Shigeomi Okamura, Satomi Tsubota, Miki Kijima, Jo-Atu-5, Chieko Ryugo, G-Jyan
Sound Designer: -TKNY- T・Kawakami, Apple-Z
Music Composer: Yoshinori Ono
Recording Coordinator: Mareo Yamada -Capcom-
Recording Engineer: Koji Tsujii -I・de・a Sound-
Additional Musician: Hiroyuki Taneda, Tomohiro Masuda, Ryoji Yamamoto, Yoshino Aoki
Publicity Designer: Hideki・Ishikawa, Shinsuke・Komaki, Shinji Miyauchi, Akiko Maejima, Satoshi Ukai, Akemi Iwasaki, Minoru Nagaoka, Masako Honma, Mizuho Toyonaga
Voice Actor: Ai Orikasa, Takeshi Aono, Syouzou Iizuka, Jyuurouta Kosugi, Nobuyuki Hiyama, Ryoutarou Okiayu, Hiroko Konishi, Yuji Minami, Akifumi Takahashi, Michiyo Terada
Special Thanks: Yoshimi Sawada, Shinichi Sato, Koji Nakajima, Tetsuya Tabuchi, Yoshihiro Sudo, Takeshi Kawano, Tatsuro Nakamura, Ayumi Terada, Shinji Amagishi, Kazushi Ito, Eiji Kamigake, Masato Kouda, Kazushi Sano, Takuya Shiraiwa, Erik Suzuki
General Producer: Noritaka Funamizu
Executive Producer: Yoshiki Okamoto
Special Thanks (continued): And Capcom All Staff
Presented by: Capcom

Merchandise and Advertisement
Edit
Ad blocker interference detected!
Wikia is a free-to-use site that makes money from advertising. We have a modified experience for viewers using ad blockers

Wikia is not accessible if you've made further modifications. Remove the custom ad blocker rule(s) and the page will load as expected.