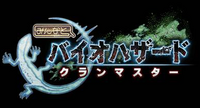 Minna to Biohazard Clan Master (みんなと バイオハザード クランマスター Minna to Baiohazādo Kuran Masutā) is a Minna to social card battle RPG game, featuring characters from the Resident Evil series, released by Capcom only in Japan in October 9, 2012.
External Links
Edit
Ad blocker interference detected!
Wikia is a free-to-use site that makes money from advertising. We have a modified experience for viewers using ad blockers

Wikia is not accessible if you've made further modifications. Remove the custom ad blocker rule(s) and the page will load as expected.