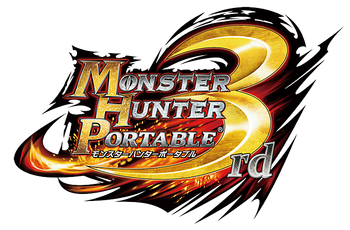 Monster Hunter Portable 3rd (モンスターハンターポータブル3rd?) is a game in the Monster Hunter franchise for the PlayStation Portable system that was released in Japan on December 1, 2010. The game was also released, as a part of the PlayStation Portable Remaster series, on PlayStation 3. The game introduces new regions, monsters, and a revised Felyne combat system. Monster Hunter Portable 3rd is not an update to Monster Hunter Freedom Unite or Monster Hunter Tri. Monster Hunter Portable 3rd is instead separate to the rest of the series, and most of the game has been entirely remade. However, it is also a successor to Monster Hunter Freedom Unite as the third game in the Portable series.
New Creature
Edit
Zinogre - a Fanged Wyvern that can 'charge' itself by summoning Thunderbugs from the vicinity, and utilize their natural electrical abilities for its own purposes, during which time its claws will emit blue light similar to its back. The Zinogre has highly developed limbs, sharp fangs and claws. Its forelegs are extremely powerful and can kill prey in one brutal blow. Despite its hulking size, Zinogre is very agile and is able to perform many impressive maneuvers. The spikes on its body mostly lie flat, but when it has built up an electric charge, they stick out vertically into the air.
HD Version
Edit
In 2011, Monster Hunter Portable 3rd HD Version, a high definition remastering of Monster Hunter Portable 3rd, was released for the PS3.
External Links
Edit
Ad blocker interference detected!
Wikia is a free-to-use site that makes money from advertising. We have a modified experience for viewers using ad blockers

Wikia is not accessible if you've made further modifications. Remove the custom ad blocker rule(s) and the page will load as expected.