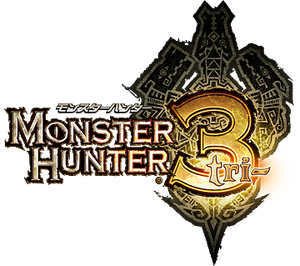 Monster Hunter Tri
(
Monster Hunter 3
in Japan) is the third installment in the
Monster Hunter
series and is the direct sequel to
Monster Hunter 2
. It was first announced for the PlayStation 3, but was canceled.
Capcom
managing corporate officer Katsuhiko Ichii announced on October 10, 2007 that
Monster Hunter 3
would be a Wii-exclusive title.
An expanded edition, Monster Hunter 3 Ultimate (Monster Hunter 3G in Japan) was released for the Nintendo Wii U and 3DS on March 19 in North America.
Changes/Additions
Edit
Monster Hunter Tri is currently the only game to include swimming and underwater combat. Monster Hunter Portable 3rd does not include this feature and, as such, many watery areas are drained or removed.
The Bow, the Hunting Horn and Dual Swords are not included. However, a brand new weapon has been added: the Switch Axe. A certain type of Gunlance is included, but it cannot fire any type of ammunition.
Monster Hunter Tri is a 3rd-generation game. Every area is new and revamped, and most monsters from previous games are not included. However, some monsters such as Rathian, Rathalos, and others have been remodeled and added to the game.
Hunters have the option to hunt in the Moga Forest (in single player); a free-hunting area with no time limit or penalty for fainting. Many large monsters can be hunted consecutively in this area for their carves. "Freehunting" requires no quest signups. Monsters that appear in the Moga Forest include the Great Jaggi, Qurupeco, Royal Ludroth, Rathian, Lagiacrus, and Rathalos.
Monster Hunter 3 Ultimate
Edit
Monster Hunter 3 Ultimate is a game for the Nintendo 3DS and Wii U. The 3DS version was released in Japan as Monster Hunter Tri G (モンスターハンター3(トライ)G Monsutā Hantā Torai G?, "Monster Hunter 3 (tri-) G") and features local wireless play. In Japan, Famitsu announced that Monster Hunter Tri G was confirmed as an expanded Monster Hunter Tri. It is the first game to support Circle Pad Pro add-on. The game was also released in two bundles, one containing the special edition 3DS and the other one containing the add-on. It was also released on Wii U, which features revised HD graphics, full online, local multiplayer, and the ability to import the game progress to the player's Nintendo 3DS. The Wii U port is known in Japan as Monster Hunter 3G HD Ver., and was released on December 8, 2012 when the Wii U launched in Japan, while the Nintendo 3DS version was re-released as a Nintendo eShop downloadable two days prior, featuring a slightly lower price than the retail re-release. It was announced that Tri G would be released in North America and Europe as Monster Hunter 3 Ultimate, and is to be released on March 2013 together for both the Nintendo 3DS and the Wii U. Monster Hunter 4 for the 3DS was also announced, which originally scheduled to be released in Japan in the same month as Monster Hunter 3 Ultimate in North America and Europe, but later pushed back to Summer 2013. It was later announced that the North American and European releases will be on March 19 and 22 respectively. A new demo of the game was released on 21st February 2013.
Merchandise
Edit
External Links
Edit
Ad blocker interference detected!
Wikia is a free-to-use site that makes money from advertising. We have a modified experience for viewers using ad blockers

Wikia is not accessible if you've made further modifications. Remove the custom ad blocker rule(s) and the page will load as expected.