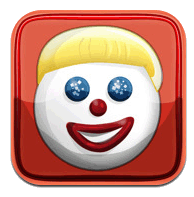 Mr. Bill by Beeline Interactive, Inc. is a 2010 game for the iPhone and the iPod, based on the iconic 1970's late night character, Mr. Bill.
Mr. Bill has taken a new job as a human cannonball for Sluggo Big-Time Circus. The player's job is to guide his flight path without getting him smashed, crushed, impaled, melted, or worse.
The game contains 28 missions spread across two environments plus two endless high-score challenge levels. Additional levels and misadventures were released as free updates, including "Mr. Bill vs. Zombies," on Halloween and one thereafter themed around Thanksgiving.
External Link
Edit
Ad blocker interference detected!
Wikia is a free-to-use site that makes money from advertising. We have a modified experience for viewers using ad blockers

Wikia is not accessible if you've made further modifications. Remove the custom ad blocker rule(s) and the page will load as expected.