Nobunaga (Sengoku Basara)
Talk

0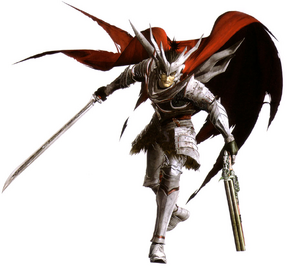 Nobunaga Oda (織田 信長, Oda Nobunaga) is a character from the Sengoku Basara series of games.
Nobunaga is very similar to his counterpart in Onimusha. He calls himself "Devil King of the Sixth Heaven" and wants to rule over the whole world. He is not a dreamer but a single-minded tyrant who sweeps all obstacles from his path. He pays no attention to people around him; they are mere pawns that are supposed to play by his rules or perish. Wields a sword (initially Kunishige) in one hand and a shotgun in the other. He uses foreign weapons and armor, and his element is darkness.
Nobunaga's sister is Oichi, Nōhime is his wife and the late Nagamasa Azai was his brother-in-law.
In Japanese History
The character is loosely based on a famous Japanese warlord who was the initiator of the unification of Japan under the rule of the Shogun in the late Sixteenth Century. His successor was Hideyoshi Toyotomi.
Gallery