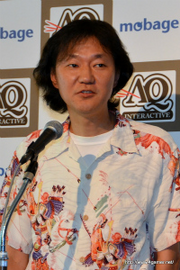 Noritaka Funamizu (船水 紀孝 Funamizu Noritaka?, born December 14, 1965), sometimes credited as Poo, worked at Capcom as a game director, game producer, game designer, and the former General Manager of Capcom's Production Studio 1.
Funamizu joined Capcom in 1985. Prior to that, he wrote for "Beep" as a part-time contributor until he was invited into the company by senior staff. When he joined Capcom, he befriended fellow designer Yoshiki Okamoto while playing a game of catchball.
During the late 1980s and up until the mid-1990s, Funamizu designed and co-designed several of the company's arcade games, including Super Street Fighter II and the Street Fighter Alpha series). Funamizu would be later promoted to General Manager of Capcom's Production Studio 1. where he stayed until 2004, when he left to help found "Crafts & Meister".
Works at Capcom
Edit
Ad blocker interference detected!
Wikia is a free-to-use site that makes money from advertising. We have a modified experience for viewers using ad blockers

Wikia is not accessible if you've made further modifications. Remove the custom ad blocker rule(s) and the page will load as expected.