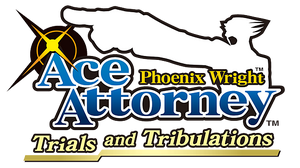 Phoenix Wright: Ace Attorney - Trials and Tribulations
(
Gyakuten Saiban 3
in Japan) is the third entry in the
Ace Attorney
series. It was supposed to be the final game to feature Phoenix Wright as the protagonist (until the announcement of
Phoenix Wright: Ace Attorney: Dual Destinies
). The game was developed by
Atsushi Inaba
, with character and promotional art by Tatsurou Iwamoto.
The game was re-released as part of the Phoenix Wright: Ace Attorney Trilogy game for the 3DS in 2014.
Characters
Edit
Episode 1: Turnabout Memories - Mia Fey's second case as a defense attorney, in which she defends Phoenix, a University student at that time, for the death of another student. The prosecutor for this case is Winston Payne.
Episode 2: The Stolen Turnabout - Phoenix defends Ron DeLite, accused of being a famous thief, and later for the murder of Kane Bullard, the CEO of KB Security. It is also in this case where Phoenix meets Godot, who is the prosecutor, for the first time.
Episode 3: Recipe for Turnabout - Phoenix defends Maggey Byrde once more, this time for the murder of a client at the restaurant where she works. Prosecutor for the case is Godot, but Payne was the prosecutor for the trial that occured on the month before.
Episode 4: Turnabout Beginnings - Phoenix looks up a file that follows Mia Fey's first case, in which she faces Miles Edgeworth in his first case as prosecutor. It is chronologically the earliest playable case in the series. Terry Fawles spends five years in prison for the murder of a woman who faked her own death. Mia Fey defends Terry Fawles for being accused of Valerie Hawthorne's death after escaping from prison. Diego Armando is also present her as Mia Fey's partner in court.
Episode 5: Bridge to the Turnabout - Miles Edgeworth and Phoenix defend the mysterious nun, Iris, for the death of the enigmatic Elise Deauxnim, a children's picture book author. Prosecutor for the case is Franziska von Karma on the first day, then Godot on the second.
Merchandise
Edit
External Links
Edit
Ad blocker interference detected!
Wikia is a free-to-use site that makes money from advertising. We have a modified experience for viewers using ad blockers

Wikia is not accessible if you've made further modifications. Remove the custom ad blocker rule(s) and the page will load as expected.