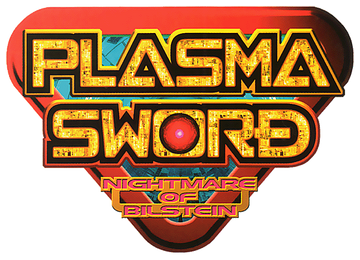 Plasma Sword: Nightmare of Bilstein
(スターグラディエイター 2 Suta- Guradieita- Tsu,
Star Gladiator 2
in Japan) is the 1998 arcade sequel to
Star Gladiator
. It is the second game in the
Star Gladiator
series. Character art was done by
CRMK
.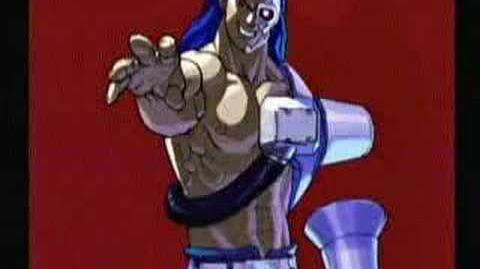 In the epic battle of the Final Crusade that had occurred from within last year, Hayato Kanzaki had slayed the evil Dr. Edward Bilstein and brought the end of the Fourth Empire's terror and destruction throughout the entire universe. The fall of the Fourth Empire and the death of its leader were momentous occasions of last year and that it had signaled the restoration of peace and happiness, but all is not well from within the universe.
Rumors have been circulating about the unexpected return of Bilstein in a new cybernetic body, as well as the appearance of a ghost who eerily looks like Bilstein's old cybernetic body. At the same time, the Fourth Empire has taken the opportunity in rebuilding its strong forces and that the loyal members of the organization are quite determined to carry out Bilstein's evil will of eliminating those who stand in the way of their emperor's universal conquest.
Hayato, June, Saturn, and Gamof soon realize that the malevolent threat of Bilstein is far from over and that the four of them must head back into the relentless fight in order to defeat Bilstein and the Fourth Empire once and for all. However, the quartet is not alone from within their second battle as they have new friends to assist them from within the inevitable conflict, such as their former enemy turned ally Zelkin, an extremely strong Japanese military war soldier named Gantetsu, a noble and aspiring American superhero named Eagle, and a mysterious yet cheerful young Japanese rhythmic gymnast named Ele. Hayato and his friends will find themselves heading back into the hard ordeal as Star Gladiators, Fourth Empire members, and neutral parties will be thrust into a war that will determine the fate of not only the Earth, but the entire universe.
The Nightmare of Bilstein has now begun....
Characters
Edit
All characters from Star Gladiator return (with the exception of Rimgal and Kappah), and fourteen new ones are featured.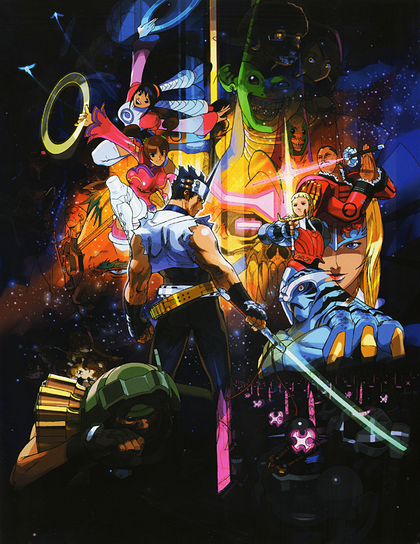 Arcade Version [Staff]
Edit
Director: Satsuma (Ikeda), Takayoshi Terada
Main Programmer: Hiro
Demo Programmer: Hero Hero, S.K ♥Sigeru Kato♥
Player Programmer: Hero Hero, Hiro, S.K ♥Sigeru Kato♥, Masaki Kataoka
Programmer: Yoshihiro Shindome, Kohei Akiyama, CHABIN type M, Yuichi "Okaz" Kagawa, Fuku 2
Obj-Effect: Shiba-H
Obj-Motion: Naoki Fukushima, Ken, Tsuru, Masaki Yamanaka, Masayuki Maeda
Obj-Texture: Nakatani, Eiji Kuratani, Michiru
Background Design: Yasuto Takahashi, Kohama, Takuji Mishima
Sound Director: Hiroaki "X68K" Kondo (Cipher)
Sound Effect: Moe.T (T.Kitamura)
Main Music Composer: Anarchy Takapon (Takayuki Iwai)
Sub Music Composer: Cyber-T (Tetsuya Shibata)
Official Art works: MCF, Inoda.Keigo, Daichan
Title Design: Shoei
Instruction Card: Sakomizu
Voice Actor: Secret♥
Super Special Thanks: Tatsuya (Dai) Nakae
Special Thanks: Neo-G (H.Ishizawa), Erik Suzuki, Dan Okada, Chris Tang, Steve Lee, Chiaki.S, and Capcom All Staff
Presented by: Capcom Co., Ltd.
Dreamcast Version [Consumer Version Staff]
Edit
Main Programmer: Yuichi Iwasaki
Programmer: Masaomi Onuma, Hiroaki Ishii, Masayuki Nabeta
Tools: Daiske Sugiura, Yosuke Ogawa
Obj-Character: Naoki Uchiumi, Soichi Kaburagi, Fujitaka Tani, Ryohei Murakami, Shinji Watanabe
Obj-Effect: Takeo Kumazawa
IconDotSprite: Takashi Nakashima
Data Convert: Akifumi Ishiyama
Special Thanks: kazuo Ikeda, and Capcom All Staff
Presented by: Capcom Co., Ltd.
Box Art and Advertisements
Edit
External Links
Edit
Ad blocker interference detected!
Wikia is a free-to-use site that makes money from advertising. We have a modified experience for viewers using ad blockers

Wikia is not accessible if you've made further modifications. Remove the custom ad blocker rule(s) and the page will load as expected.