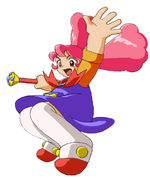 Pollin is a character from the Tech Romancer mecha fighting game. She pilots the Bolon.
The patchwork robot, Bolon, created out of the parts of several buildings, is the creation of Pollin, a Magical Girl-like little girl who appears to be only about eight years old, though she can age herself to be roughly 17. She has a crush on Junpei, and ends up fighting several of the female pilots in the game over him in her storyline. She is actually the daughter of Goldibus.
Ad blocker interference detected!
Wikia is a free-to-use site that makes money from advertising. We have a modified experience for viewers using ad blockers

Wikia is not accessible if you've made further modifications. Remove the custom ad blocker rule(s) and the page will load as expected.