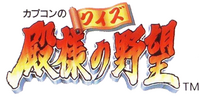 Quiz Tonosama no Yabō (クイズ 殿様の野望, "Quiz - Feudal Lord's Ambition") is a quiz arcade game released in 1991. A sequel, Quiz Tonosama no Yabō 2: Zenkoku-ban (クイズ 殿様の野望2 全国版), was released in 1995.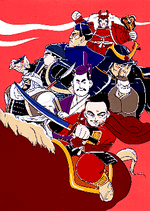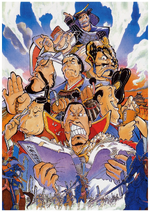 Mega CD Version [Staff]
Edit
Character Designer: Kan・Masa, L・Hisano, Y・Ishibiki
Programmer: Kouyou, S・Koyama, T・Asano, H・Kawaguchi, Miz
Music: Hikoshi Hashimoto
Special Thanks to: Hoe Hoe, H・Yam, Super Punch
Planner: Kouyou, Kan・Masa, L・Hisano
Producer: Mamoru Shigeta
Voice Cast: Chieko Honda, Chisa Yokoyama, Toshiyuki Morikawa, Megumi Hayashibara

Ad blocker interference detected!
Wikia is a free-to-use site that makes money from advertising. We have a modified experience for viewers using ad blockers

Wikia is not accessible if you've made further modifications. Remove the custom ad blocker rule(s) and the page will load as expected.