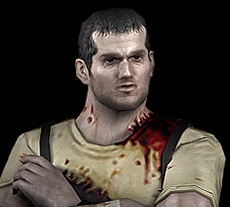 Robert Kendo is a character from the Resident Evil survival horror games. He was the owner of the Kendo Gun Shop adjacent to the police station in Raccoon City in Resident Evil 2.
Kendo, a Japanese-American, was a good friend of S.T.A.R.S. member Barry Burton, and helped to create custom guns for Barry and other S.T.A.R.S. members. He managed to survive the Racoon City outbreak until the night of September 29th, when wielding a shotgun or a bowgun (depending on which character encounters him), he was attacked and eaten by zombies after offering sanctuary to either Leon S. Kennedy or Claire Redfield. Perhaps it was because he freely handed out weapons to the remaining citizens, but after the outbreak, there were no good weapons remaining in the shop, and he wasn't able to successfully defend himself with what was left to him. Leon, who just arrived in Raccoon City, witnessed him being attacked. He tried to save Robert, but was unsuccessful.
His plan prior to being killed was to retreat to Stoneville before his shop was "overwhelmed by zombies". He left Barry Burton a note (which he never received) welcoming him to join him out there to go fishing.
The last gun he customized for Barry was the Raging Bull, which he had specifically ordered. Kendo was forced to relieve it to one of the town's survivors, but apologized to Barry for this in a note.
Kendo was known to make harmless sexist remarks to his female customers, such as calling them "babe" or "darlin'".
Robert had a brother, Joe, whom he frequently worked and developed gun customizations with. Together, they developed the M92F S.T.A.R.S. Special (a.k.a. "Samurai Edge") for "the boys of S.T.A.R.S." (ironically, it would be Jill Valentine who received his fax about it).
Ad blocker interference detected!
Wikia is a free-to-use site that makes money from advertising. We have a modified experience for viewers using ad blockers

Wikia is not accessible if you've made further modifications. Remove the custom ad blocker rule(s) and the page will load as expected.