Shinkiro
Talk

0
1,248pages on
this wiki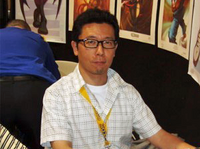 Shinkiro (森気楼) (born December 14, 1962) (real name - Toshiaki Mori) is a Japanese illustrator and conceptual artist currently employed by Capcom. Prior to joining Capcom, Shinkiro was employed by SNK, where he provided the character designs and cover illustrations for their Neo-Geo games, including The King of Fighters and Metal Slug series, until he was laid off due to SNK's bankruptcy in 2000.
At Capcom, Shinkiro has done several cover artworks and character designs for games, including Dino Stalker, God Hand, Dead Rising and Bionic Commando Rearmed. He has also done covers for American comics such as Spider-Man Unlimited and UDON's Street Fighter comic series. Shinkiro also enjoyed success as the main illustrator of Tatsunoko vs. Capcom and Marvel vs. Capcom 3.
His art style and techniques are well known among fans due to his use of shading and lighting, giving his images a more realistic feel rather than an animated look commonly seen in manga or anime.
Works for Capcom
Edit
External Link
Edit