Ad blocker interference detected!
Wikia is a free-to-use site that makes money from advertising. We have a modified experience for viewers using ad blockers

Wikia is not accessible if you've made further modifications. Remove the custom ad blocker rule(s) and the page will load as expected.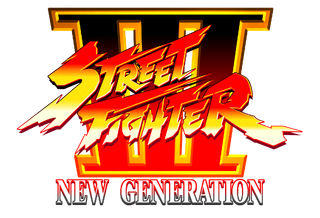 The Street Fighter III games are a continuation of the famous Street Fighter series and chronologically the last ones in the timeline. The first of these, Street Fighter III: New Generation, was designed as a direct sequel to the Street Fighter II games. It discarded all the original characters, with the exception of Ryu and Ken, instead having an all new character roster led by Alex (hence the "New Generation" subtitle). Likewise, a new antagonist named Gill took over M. Bison's role from the previous games as the new boss character (although counting Street Fighter IV, he would be taking over for Seth).
There were three editions in arcades, each adding more characters as well as making minor modifications to the gameplay:
Street Fighter III: New Generation - (1997)
Street Fighter III 2nd Impact - Giant Attack - (1997)
The original Street Fighter III and 2nd Impact follows the same storyline (much like the first two Alpha games), while 3rd Strike is a continuation of both (much like Alpha 3).
Characters
Edit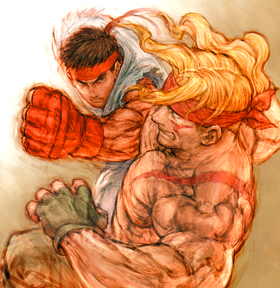 Street Fighter III Double Impact
Edit
Double Impact (Street Fighter III: W Impact in Japan), released in 1999 for the Dreamcast, was a compilation containing the original game and 2nd Impact. The compilation features an Arcade, Versus, Training and Option Mode for both games, as well as a "Parry Attack Mode" in 2nd Impact, where the player gets to test his or her parrying skills in the game's bonus round. Gill (in both games) and Shin Akuma (in 2nd Impact only) are now playable, unlike the arcade version.
See also
Edit
Street Fighter III: New Generation [Staff]
Edit
Character Design: Hitoshi "T" Nishio, Ball Boy, Q, Yu‑Suke, Who, Toru Takaoka, G.Kamina, D‑Kurita, Shibaki, Tuyoshi, Yoshioka, Chun, Norihide, Chimorin Shogun, Yuki Ishikawa, Syuucyan, Ken, Koki. K, Seiji Yano, Jun Ikawa, Otokonoyama
Scroll Design: Hiroyuki Imahori, Hiroki Ohnishi, Yoko Fukumoto, Yuki Kyotani, Tama, Chie Morisaki, Hiroshi Sugiyama, Koji Yamamoto, Yumiko. N, Takako Nakamura, Yasuto Takahashi, Kazumi Teramoto, Yoichi Tanoue, Shinnosuke. N, Naoko Niiyama
Original Art Work: Akiman, Kinu Nishimura
Sound Effect: Satoshi Ise
Music Compose: Hideki Okugawa, Yuki Iwai
Programmer: Kazuhito Nakai, Nobuya "LT1" Yoshizumi, Yuko Kawamura (Tate), Hiroshi Nakagawa, Hard・Yas -Assist-, Akihiro Yokoyama
CP-SystemⅢ Programmer: Yoji "X68k" Mikami
Planner: Yasuhiro Seto, Numach the Nikolist, S.Obata AE-86 Trueno, Malachie du Marais, Neo_G -H.Ishizawa-
Voice Actor: Yuri Amano, Wataru Takagi, Isshin Chiba, Kan Tokumaru, Koji Tobe, Kahoru Fujino, Bruce Robertson, Michael Sommers
Special Thanks: Takuya Shiraiwa, Naoki Fukushima, Sayuri Shintani, Shoei, Sakomizu, Rita Rokos
Translator: Matt Taylor, Erik Suzuki, Jesus Rodriguez Bueno, Harumi Yamashita
Producer: Tomoshi Sadamoto
General Producer: Noritaka Funamizu, Yoshiki Okamoto
And Capcom All Staff
Presented by: Capcom
Street Fighter III 2nd Impact: Giant Attack [Staff]
Edit
Character Design: Who, D‑Kurita, Chimorin Shogun, Shibaki, Chun, Jun Ikawa, Seiji Yano, Yuki Ishikawa, Shinnosuke. N
Scroll Design: Hiroshi Sugiyama, Yoko Fukumoto, Hiroyuki Imahori, Ojiji, Naobei, Akemi Kohama, Tama, Koji Yamamoto, Kouichi Takeda
Original Art Work: Akiman, Kinu Nishimura, NK
Title Logo Design: Shoei
Instruction Design: Sakomizu
Programming: Kazuhito Nakai, Nobuya "LT1" Yoshizumi, Yuko Kawamura (Tate), Hiroshi Nakagawa, Yoshinobu Inada (Ine), Masahito Oh!Ya!, Akihiro Yokoyama
Sound Effect Design: Satoshi Ise, Hiroaki "X68k" Kondo
Music Compose: Hideki Okugawa, Yuki Iwai
Music Arrangement: Hideki Okugawa
Planning: Yasuhiro Seto, Neo.G - H.Ishizawa -, Numach
Voice Actor: Yuji Ueda, Wataru Takagi, Tomomichi Nishimura, Kahoru Fujino, Yuri Amano, Isshin Chiba, Kan Tokumaru, Koji Tobe, Bruce Robertson, Michael Sommers
Message Translator: Erik Suzuki, Dan Okada, Chris Tang, Yumiko Nishi, Karka Oshiro de Freitas
Special Thanks: Tsuyoshi, Mayano, Tomo, Blbon, Takafumi Sagata, M.Aoki, N.Akei, H.Nakamura, H.Ojima, Yoji "X68k" Mikami, Takuya Shiraiwa, Rita Rokos, Ryoji, Hard・Yas -Follow-
Special Thanks ( CS Bug Checkers ): Kunishige Matsubara, Manabu Matsumoto, Tomoyuki Yokota, Tetsuya Haze, Katsusuke Miura, Masahiro Kajitani, Takashi Hashimoto, Toshihiko Kurata, Yoshihiro Tomita, Daisuke Sasaki, Akinori Murata
Special Thanks ( Skill Smith - Test Play ): TTK-K.S, Hiroshi Sugimoto-Bug, Gon, Kohsuke-Arai (Tko)
Producer: Tomoshi Sadamoto
General Producer: Noritaka Funamizu, Yoshiki Okamoto
And Capcom All Staff
Presented by: Capcom
Merchandise and Advertisement
Edit
External Links
Edit