Super Gem Fighter: Mini Mix
Talk

2
1,375pages on
this wiki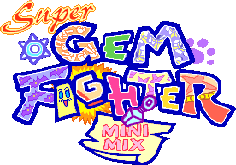 Super Gem Fighter: Mini Mix
(known as
Pocket Fighter
in home console releases) is a fighting game released in September 1997 on the CPS-2 arcade system.
It was ported to the PlayStation, Sega Saturn, and WonderSwan, as well as PlayStation 2 as part of Street Fighter Alpha Anthology. The game's characters are depicted in "super deformed" style.
The game includes characters from Street Fighter Alpha, the Darkstalkers series, Street Fighter III, and the more obscure Red Earth (which was only released for the CPS-3 arcade board). It also features many cameos from various Capcom games. Illustrations were done by Shima Maeda, with some minor artwork by Edayan.
Characters
Edit
Cameo appearances
Edit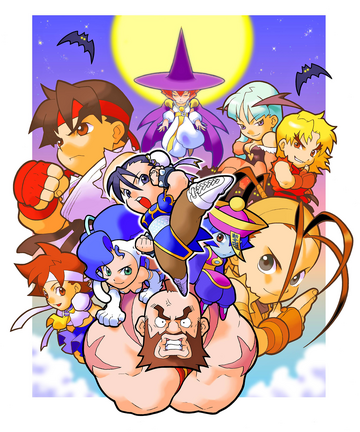 This lists all Capcom characters that appeared in the game as themselves, or at least an item that is affiliated or referenced to him/her.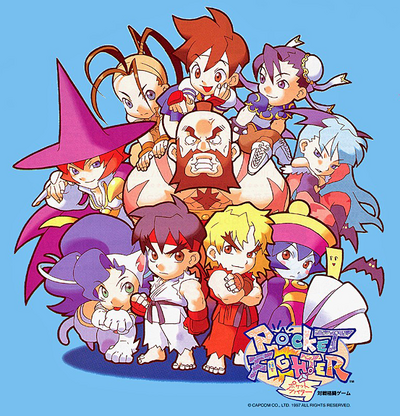 Arcade Version [Arcade Staff]
Edit
Object Design: Ino, Masaru Nishimura, Yorio, Shigeyama, Tomohiko Ohsumi, Mayano, Kimikimo & Sema, Iwasaki, Ikusan Z, Kitasan, Rumichan, Chizuko Tamura
Scroll Design: Takako Nakamura, H.Ohnishi, Akiko Ohnishi, Ojiji, Hirokazu Yonezuka, Youichi Tanoue, R.Uno
Character Design: Edayan, I.Yamazaki, Jiwasaki, Sakomizu, Babatin, Uka-Bin
Main Art Work: Shima Maeda
Music Compose & Arrangement: Isao Abe, Yuki Iwai, Setsuo Yamamoto
Sound Design: Satoshi Ise, Ryoji, Hiroshi Ohno
Voice: Yuri Amano, Kae Araki, Naoko Ishii, Tetsuya Iwanaga, Yuko Sasamoto, Yayoi Jinguji, Wataru Takagi, Tomomichi Nishimura, Michiko Neya, Souichiro Hoshi, Osamu Hosoi, Yuko Miyamura
Programmer: Knight Rider Giu, Senor, Pon, Ittetsu, Hyper Shinchan, Minomiya, Cham, Hard.Yas - Enemy -, Team Dirty Beret
Game Design: Spp Iorya, Murasaki Umagoyashi, Burns Fuji, Mamoru Ohashi, Team Sadogatake
Producer: Takashi Sado
General Producer: Noritaka Funamizu
Executive Producer: Yoshiki Okamoto
Special Thanks: Mr. Shiraiwa, Erik Suzuki, Dan Okada, Chris Tang, Rita Rokos, Satsuma, Tomoaki Tsuji, And Capcom All Staff
Presented by: Capcom
PSX and Saturn Versions [Consumer Staff]
Edit
Programmer: Keiji Kubori, Kohji Hasunuma, Takayuki Umezu, Tomohiro Ueda, Toshihiko Tsuji, Tsutomu Terada, Yasuhito Okada, Akihiro Kashimoto
Object Design: Masaru Nishimura, Ino
Scroll Design: Natsue Ueda, Miki Kijima, Mayumi Yoshioka, Motoki Nabeshima
Sound Design: Nariyuki Nobuyama, More Rich, Satoshi Ise
Music Compose & Arrangement: Isao Abe, Yoshino Aoki
Manual Design: I.Yamazaki, Jiwasaki, Spp Iorya
Game Design: Hiroyuki Yamato, Junko Nonda
Producer: Bamboo, Petcha
General Producer: Noritaka Funamizu
Executive Producer: Yoshiki Okamoto
Special Thanks: Kuwanyan '98, Byo‑Kichi Sawarin, Hiroaki Yanagiguchi, Tetsuya Tabuchi, Takeshi Kawano, Yoshihiro Sudo, Yuka Fujiwara, Tadamasa Yamaguchi, Midori Tokanai, Ayumi Terada, Hironori Ojima, Erik Suzuki, Dan Okada, Chris Tang, Robert Johnson, And Capcom All Staff
Presented by: Capcom
Wonderswan Version
Edit
Producer: Toshihiro Suzuki
Assistant: Shun Satou

Development by Soft Machine

Planning: Hidenori Ohgishi, Munekazu Matsuyoshi, Naoki Murata
Program: Kazuya Yamada, Michinori Narita, Munekazu Matsuyoshi, Syoichi Horishita, Youkou Tamura
Graphic: Hajime Nara, Naoki Murata, Noriaki Nakamura, Atushi Meguro, Hiroshi Abe
Sound: Norihiko Togashi
Publicity: Masashi Umeda, Hiroshi Shimada, Tuyoshi Satou, Takahiro Sasanoi, Naomi Aikou
Test Play: Studio Stat

Special Thanks Capcom

Yoshiki Okamoto, Noritaka Funamizu, Takashi Kitahara, Takashi Sado, Naoto Ohta, Katsuhiro Eguchi, Jun Nishino, Junichi Nagai, Yuka Fujiwara, and Pocket Fighter Staff
Special Thanks Bandai

Nobuyuki Tanaka, Yoshiyasu Horiuchi, Yusuke Sasaki
Presented by Bandai

Similar game
Edit
Merchandise
Edit