The Great Circus Mystery starring Mickey and Minnie
Talk

0
Share
Ad blocker interference detected!
Wikia is a free-to-use site that makes money from advertising. We have a modified experience for viewers using ad blockers

Wikia is not accessible if you've made further modifications. Remove the custom ad blocker rule(s) and the page will load as expected.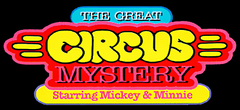 The Great Circus Mystery Starring Mickey and Minnie, known as Mickey & Minnie: Magical Adventure 2 (ミッキーとミニー マジカルアドベンチャー2) in Japan, was released for the Super Nintendo Entertainment System, Sega Genesis and Game Boy Advance. It is the sequel to The Magical Quest starring Mickey Mouse and the second in the Magical Quest. This time, the game features both mice, who must discover why the circus suffered an attack from Baron Pete.
The game ditches the alternating two-player method in favor of simultaneous co-op. Another new feature is a password back-up.
Both Mickey and Minnie are identical gameplay-wise, and the costumes they receive don't differ from each other in any aspect except aesthetically.
The costumes include a sweeper, which can suck enemies and turn them into coins, a safari suit that can climb walls and swing from hooks and a cowboy suit that shoots corks and maneuvers by bouncing. The latter two outfits can be upgraded at a shop.
The Genesis version of the game includes a cosmetic change for the stage 5 boss and an extra room in stage 3.
In the GBA version (retitled Disney's Magical Quest 2), Mickey's eyebrows are removed during closeups of Mickey and the character select screen is different because Mickey had a slightly short face change appearance in the 21st century Mickey Mouse Cartoons. A save feature was added in the GBA Version as well.
Unlike the first game in the series, the Capcom staff members involved are merely credited by their company. This is somewhat rectified by the GBA version, which offers some staff members who may have been involved with the original version. One other known credit is the sound composer of the original version: Makoto Tomozawa, as revealed via Twitter.
SNES Version [Staff]
Edit
Producer: Noah Dudley
Assistant Producer: Gary Graeper
Licensing Manager: Sue Fuller
Capcom All Staff
Presented by: Capcom

GBA Version [Staff]
Edit
Producer: Tatsuya Minami, Hironobu Takeshita
Assistant Producer: Minae Matsukawa
Director: Yusuke Hiwada
Graphic Designer: Buppo
Programmer: Kenichi Nishigaki, Kouhei Yamaguchi, Norio Maeda, Kenichi Arita, Masahiro Oda, Shingo Azuma, Mitsuhiro Nagahama, Takuya Hikono
Sound Designer: Chihiro Arisaka
Special Thanks: Kuborin, Masatsugu Shinohara

Disney Interactive, Japan
Producer: Tomomi Endo
Senior Producer: Emiko Yamamoto
Senior Manager, Marketing: Miki Nishimura
Vice President, General Manager: Shuji Utsumi

Disney Interactive
Senior Producer: Luigi Priore
Senior Producer, Japan: Emiko Yamamoto
Character Art, Director: Jhon Loter
Localization Manager: Sonoko Ishioka
Localization Manager, EMEA: Catherine Duperron
Special Thanks: Roy E·Disney, Graham Hopper, Dan Winters, Sanjeev Lamba, Pat Larkin
Presented by: Capcom