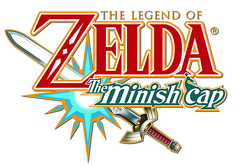 The Legend of Zelda: The Minish Cap, known as Zelda no Densetsu: Fushigi no Bōshi (ゼルダの伝説 ふしぎのぼうし, Zeruda no Densetsu: Fushigi no Bōshi?, lit. "The Legend of Zelda: The Mysterious Hat") in Japan, is the twelfth game in The Legend of Zelda series of video games, developed by Capcom, with Nintendo overseeing the development process. It was released for the Game Boy Advance in 2004 in Japan and Europe and 2005 in North America.
The Minish Cap is the first original single-player The Legend of Zelda adventure to be released for a handheld platform since The Legend of Zelda: Oracle of Seasons and Oracle of Ages in 2001 (not including The Legend of Zelda: A Link to the Past & Four Swords, which was not wholly a new game). It is also the final Zelda game made by Capcom's Flagship Co., Ltd. before they ceased production in 2007.
External Links
Edit
Ad blocker interference detected!
Wikia is a free-to-use site that makes money from advertising. We have a modified experience for viewers using ad blockers

Wikia is not accessible if you've made further modifications. Remove the custom ad blocker rule(s) and the page will load as expected.