Chris Redfield  e Um dos Personagens principais fazer  Resident Evil série.  Ele e Membro dos Táticas Especiais e de salvamento e servir Como Ponto de homem do Alpha Team. Como hum ex-Membro da Força Aérea dos EUA, ELE TAMBÉM e Um piloto Experiente. Redfield Retornado Como hum Personagem jogável em Resident Evil Code: Veronica  , that DEVE PROCURAR, e, Finalmente, resgatar, SUA Irmã Mais nova. He foi dublado POR Michael Fipowich em  Resident Evil Code: Veronica  e Joe Whyte não Nintendo GameCube  Refilmagem  fazer título original. Roger Craig Smith Vozes Chris em  Resident Evil 5  , um e  The Darkside Chronicles .                                          
Chris Redfield

Chris em Resident Evil 5.
Profile
Full Name
Chris Redfield
Birthdate
1973
Birthplace
Estados Unidos da América
Height
181 cm (5 pés 11 pol)
Weight
185 cm (6 pés 1 pol)
Blood Type
O
Likes
Claire, Jill, Leon, Sherry, Barry, e Piers
Dislikes
Zombies, Albert Wesker, e Carla Radames
Measurements (Bust, Waist, Hip)
80.5 kg (177 lb)
98 kg (216 lb)
Fighting Style
Armas e Armas Brancas
Conteúdo
Chris estreou há original  Resident Evil  título Ao lado dos companheiros STARS operatório  Jill Valentine  . História de Chris E significativamente Mais Difícil fazer that Jill, devido a ter Uma Chris CAPACIDADE de carga reduzida, a ausencia de itens Como uma gazua e lançador de granadas concedida a Jill, e hum carater de Apoio MUITO MAIS passiva. No entanto, Chris E Capaz De Sustentar Mais Danos fazer that Jill. Seu Parceiro nenhuma Jogo E  Rebecca Chambers  , um Membro novato dos  STARS  Bravo Team, that auxilia com Chris SUA Especialização em química e medicina.
Resident Evil 2: Extreme Battle Modo Editar
Chris NÃO aparecer Como hum Personagem diretor de  Resident Evil 2  . Em vez Disso, SUA Irmã Mais nova,  Claire Redfield  , servir Como hum dos Personagens principais. Enredo gira em torno de Claire SUA Busca por Chris, na Sequência dos acontecimentos do Primeiro Jogo. Mais tarde E revelado that Chris tinha deixado  Raccoon City  , indo para à Europa, um Fim de Investigar como Atividades Ilegais da Umbrella Corporation. Enquanto storywise ELE NÃO ESTÁ MESMO em Raccoon City, Chris Fez Um pouco de Uma Aparição nenhum relançamento Playstation Dual Shock. ELE PODE Ser Desbloqueado há mini-jogo "Batalha Modo Extreme".
Resident Evil Code: Veronica Editar
Chris voltou Como hum Personagem diretor de  Resident Evil Code: Veronica  . Na Sequência dos acontecimentos da Primeira Metade do Jogo, o jogador assume o Controle de Chris DEPOIS de sabre da Prisão de Claire na  Ilha Rockfort  . Sua Missão o lev um  guarda-chuva  Laboratório secreto 's na Antártida, Onde ELE enfrenta Alexia Ashford  , o criador do vírus T-Veronica, e hum Ressuscitado  Albert Wesker  . He consegue salvar Claire e Os Dois Fazem SUA fuga a Partir da Instalação, prometendo Destruir Umbrella juntos.
Resident Evil 5 Editar
Chris E o protagonista de  Resident Evil 5  , Sendo enviado parágrafo Kijuju na África Ocidental parágrafo prender hum traficante BOW Chamado Ricardo Irving, juntamente com  Sheva Alomar  . Logotipo enguias descobrem that Kijuju ESTÁ infestado com Novas Formas de  Las Plagas  . Além Disso, um Acontecimento trágico sem Passado de Chris Volta para assombrá-lo, forçando Chris that lidar Novamente com  Albert Wesker  , Seu Inimigo mortal, e Descobrir revelações obscuras Sobre SUA vida adiantada.
Otras Aparições  Editar
Chris Redfield apareceu Como hum Personagem jogável em  Marvel vs Capcom 3  e SUA version Atualizada Junto com  Wesker  ,  Jill  um e  Nemesis  .
Chris apareceu nenhuma Jogo SRPG de cruzamento  Project X Zona  Junto com Jill e Nemesis.
He also apareceu Como hum Cartão em  Street Fighter X Todos Capcom  .
Em  Resident Evil  , o Projeto "Made in Heaven" PODE Ser visto na parte de tras de Seu suplente desbloqueáveis ​​jaqueta do Traje. Em  Resident Evil 2  , ELE TAMBÉM E destaque na parte de Trás do casaco desbloqueável de Claire, Exibindo that they São Irmãos.
[1]Resident Evil Instrução ilustração Manual de arte[2]Arte Conceitual[3]Resident Evil Alternate Costume[4]Resident Evil 2: Modo Extreme Battle[5]Resident Evil Code: Veronica[6]Resident Evil Code: Veronica[7]Sobrevivente Resident Evil 2 - Code: Veronica[8]Resident Evil Remake[9]Resident Evil Remake[10]Com  Jill  em  Resident Evil  Remake[11]Resident Evil: The Umbrella Chronicles[12]Resident Evil: The Umbrella Chronicles[13]Resident Evil: The Umbrella Chronicles[14]Com  Jill  em  The Umbrella Chronicles[15]Pachislot Biohazard[16]Resident Evil 5[17]Resident Evil 5[18]Resident Evil 5[19]Resident Evil 5[20]Resident Evil 5  Safari Costume[21]Resident Evil 5 ESTRELAS Costume[22]Resident Evil 5: Gold Edition[23]Resident Evil 5: Gold Edition  Heavy Metal Costume[24]Resident Evil 5: Gold Edition  Fantasia de Guerreiro[25]Resident Evil: The Mercenaries 3D[26]Resident Evil: The Mercenaries 3D Alternate Costume[27]Resident Evil: Revelations[28]Marvel vs Capcom 3: Fate of Two Worlds[29]Ultimate Marvel vs Capcom 3[30]STARS Uniforme '(DLC - MvC3 Add-Ons Costume Pack 01)[31][32]Resident Evil 6 Conceito de arte[33]Project X Zona[34]Street Fighter x All Capcom[35]Marvel Vs Capcom 3 / Ultimate Marvel vs Capcom 3 Combo Vídeos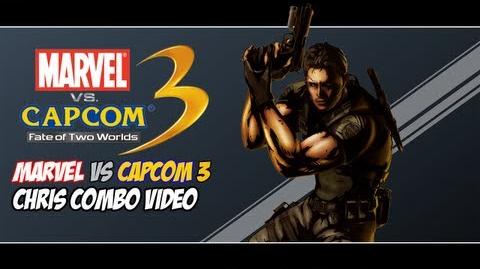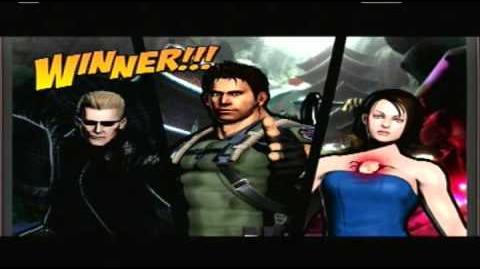 Ad blocker interference detected!
Wikia is a free-to-use site that makes money from advertising. We have a modified experience for viewers using ad blockers

Wikia is not accessible if you've made further modifications. Remove the custom ad blocker rule(s) and the page will load as expected.