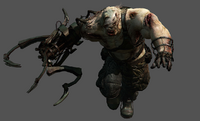 Ustanak is a enemy from the Resident Evil series of survival horror games. It is a B.O.W. working alongside Carla Radames and Neo Umbrella in their hunt for Jake Muller. Its name comes from the Serbian word for "revolution".
Other Appearance
Edit
Ustanak appears as one of the Rival Units in Project X Zone 2.
Ad blocker interference detected!
Wikia is a free-to-use site that makes money from advertising. We have a modified experience for viewers using ad blockers

Wikia is not accessible if you've made further modifications. Remove the custom ad blocker rule(s) and the page will load as expected.