Vampire: Darkstalkers Collection
is a compilation of the
Darkstalkers
fighting games. It was only released in Japan for the PlayStation 2, and features arranged modes of the later games which need to be unlocked in order to play.
In addition to all of the secrets contained in the original games, there is one additional secret character, known as Dee (Evil Donovan).
The compilation includes the following games:
Vampire Savior 2: The Lord Of Vampire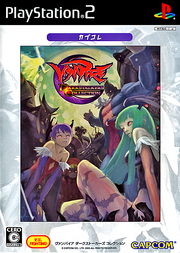 Voice Actor: Kae Araki, Yuji Ueda, Jyurouta Kosugi, Hiroko Konishi, Yayoi Jinguji, Isshin Chiba, Kan Tokumaru, Michiko Neya, Kyoko Hikami, Nobuyuki Hiyama, Miyuki Matsushita, Kozue Yoshizumi
Program Design: N.Minomiya, Kobuta
Sound Remaster: Takashi, Ryoji, Masayuki
Character Designer: Kim☉ Kim☉, Erichop, Atsushi Iwasaki
Scroll Designer: Hiroshi Sugiyama
Planner: Oni-Suzuki
Scenario Planner: Haruo Murata
Title Designer: Shoei Okano
Illustrator: Ikeno
Instruction Card Designer: Akemi Iwasaki
Test Player: bug (Skill Smith), Shigeyoshi Kuwamura, Ymg J Matsubara, Yuki Kobayashi
Director: Oni-Suzuki
Producer: Hitomi Nishimoto
Executive Producer: Keiji Inafune
Special Thanks: Sakomizu, Kousuke Mukai, Cham, Pon, Hyper Shinchan, and All Capcom Staff
Presented by: Capcom
The game coincided with a special order for a Darkstalkers-themed, Sega Saturn-styled PS2 controller.
Certain games from the collection gain a special tweak in the system.
External Links
Edit