Wantame Music Channel: Doko Demo Style
Talk

0
Share
Ad blocker interference detected!
Wikia is a free-to-use site that makes money from advertising. We have a modified experience for viewers using ad blockers

Wikia is not accessible if you've made further modifications. Remove the custom ad blocker rule(s) and the page will load as expected.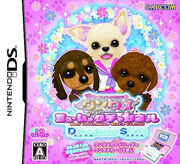 Wantame Music Channel: Doko Demo Style
is a rythym/music game developed by
Capcom
. It was released in Japan on Nov 22, 2007 for the Nintendo DS, and has not been released in any other markets since.