X-Men vs. Street Fighter is the first game in Capcom's Vs. series. It was first released in 1996 in arcades and later ported to the Sony PlayStation and the Sega Saturn.
Many of the characters and fighting mechanics used in X-Men vs. Street Fighter and its seuqels were first developed and refined in two other fighting games Capcom had developed earlier, serving as precursors to the Marvel vs. Capcom series: X-Men: Children of the Atom, which featured characters strictly from the X-Men universe, and Marvel Super Heroes, which gleaned characters from Marvel's entire roster (X-Men included).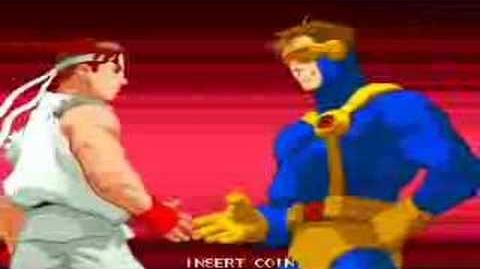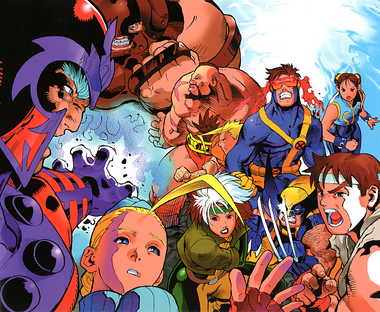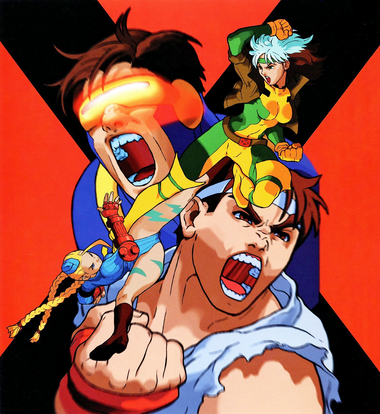 While known throughout fan circles as one of the great classic arcade fighters, X-Men vs. Street Fighter had an uneven conversion to home consoles. The reason was that due to the RAM limitations of the Playstation, the port was significantly inferior to the arcade in both graphics and gameplay. A lot of animation frames had to be removed, making the game look awkward and choppy, and slow performance during special moves made the game essentially unplayable. Because of memory limitations, this version also lacked the arcade's tag-team setup. The Sega Saturn version was deemed much more acceptable by fans. Interestingly enough, while the Saturn version may be considered superior, the Playstation version has also become something of a collector's item, fetching high prices on auction sites.
X-Men vs. Street Fighter marks the first appearance of the "Shadaloo" depiction of Cammy, who would reappear in the console versions of Street Fighter Alpha 2 Gold, as well as in Street Fighter Alpha 3.
For unknown reasons, Cammy's KO voice clip is also used for Rogue despite the two characters having different voice actors. This remains unchanged in Marvel vs. Capcom 2.
Planner: Atsushi Tomita
Assistant: Takayoshi Terada, Moriyoshi Teruya
Programmer: Aoi, Motsu, Giu, Eternal Sailor, Tora & Yume & ? & Hide
Character Design: Bengus
Title Design: Shoei
Object Design: Hiroaki Minobe!, Rie Satou, Masanori・Kondo, Kanako♥Takami, Miwaringo♥, Y,Yamamoto, Tateishi Masayo, Toshihiro Suzuki, Sagata, Satoru Yamashita, Ino, R,Naoi, Kako, Narancha, Shin, Ikusan, Kurose, G,Kamina, K.Kikutani, T.Ohsumi
Scroll Design: Iwai, Taka, Kisabon, May, Hisashi Sawada, Inoyan, Shinnosuke♥, Yoichi Tanoue, Hooly (Fukahori), Naobei, Yoko Fukumoto, Ziggy, Konomi, Isukesan120%, Manga-Chop
Music Compose & Arrange: Yuki Iwai, Yuko Kadota
Sound & Voice Design: Hiroaki "X68K" Kondo, Moe.T
Voice Actor: Norman Spencer, Cathal Dodd, Catherine Disher, Lenore Zann, Tony Daniels, Don Francks, Rick Bennett, Lorne Kennedy, Katashi Ishizuka, Tetsuya Iwanaga, Yuko Miyamura, Toshiyuki Morikawa, Susan Hart, Yoshiharu Yamada, Wataru Takagi, Tomomichi Nishimura
Producer: Tetsuya Iijima
General Producer: Noritaka Funamizu (Poo)
Special Thanks to: Sakomizu, Adviser Akitomo, Takuya Shiraiwa, Matt Taylor, Erik Suzuki, Kinu Nishimura, Jesus R. Bueno, Harumi Yamashita, Dana Moreshead, Alison Stroll, Rita Rokos, Darryl Williams, Mr. Kubozono, Mr. Hirao, Marcello Fortino, David Alex Stinson, Joseph Calamari, Satoshi Ise
Presented by: Capcom
Street Fighter Edit
Merchandise and Advertisement
Edit
External Links
Edit