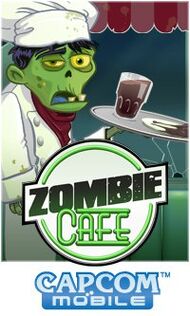 Zombie Cafe is a 2011 game developed by Capcom for the Apple iOS platform. This was the first in their line of casual "freemium" games (later followed by Smurfs' Village), which are free to play, but allow real-world money to be spent to speed up in-game processes. The game garnered a small amount of attention when Capcom filed a trademark on the name "Zombie Cafe", and again after release for a series of "zombie humor" YouTube videos.
The player assumes the role of a cafe owner who, with help from a bio-tech company, is running a cafe staffed by zombies. The player must lure unsuspecting patrons in and convert them into zombies. Once the cafe is fully staffed, the player must cook food and create new recipes, though both processes can be sped up by spending real-world cash. The zombies can also be called-upon to raid neighboring cafes, hopefully bringing back new recipes in the process.
Advertisements
Edit
External Link
Edit
Ad blocker interference detected!
Wikia is a free-to-use site that makes money from advertising. We have a modified experience for viewers using ad blockers

Wikia is not accessible if you've made further modifications. Remove the custom ad blocker rule(s) and the page will load as expected.